Originally this recipe caught my eye from Martha Stewart LIVING. Let's face it, they have incredible pictures. 🙂 What is not in this meal? If it is in season, it is in there! I changed this to my exact liking, added more vegetables, took out the chicken thighs, and added apples as well.
In all- there are 13 different types of veggies! They all complement one another too. I love the parsnips, brussels, and chestnuts here the most-YUM! This recipe makes a ton of servings so it is worth the effort you put in.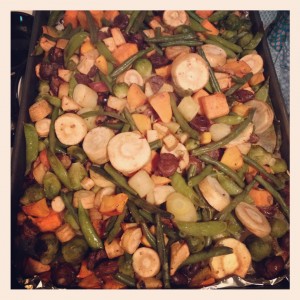 All you need to know is this: Basically, just make this and stuff it into anything you want or just use this recipe as the best vegetable mix ever for the BEST ADDITION to your table!
This is so healthy and a perfect Fall meal. I have made this without the Pumpkin as well and it is incredible too. My husband and I agree, there is something special to this meal, as it makes you feel good as well.  The colors and flavors will make you very happy on a Fall day!  I like to make this even on Thanksgiving to give such a variety of vegetables and it makes for a stunning presentation.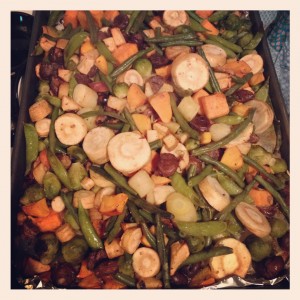 (This picture is what the filling looks like before you put it in the  pumpkin and that can be optional too, as it is amazing on it's own too.)
Try all my Thanksgiving Recipes! Enjoy!