These make for one of my favorite snacks and sides.  They fill you up, they taste incredible, they can be portable, and they are healthy.  Works for me, does that work for you?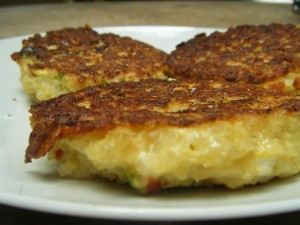 I love them on top of a salad or just plain with a nice dipping sauce to go with.  Like Salsa Verde or Hot sauce.  I make these when I have a lot of left over quinoa and instead of being bored with that sometimes bland quinoa,  this really jazz's it up.  Think eggy-quinoa cakes with delicious flavor going on in the middle.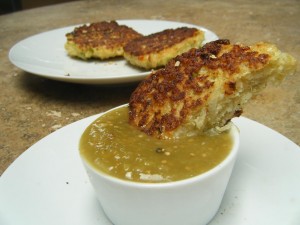 This recipe is adapted from Heidi Swanson from her cookbook "Super Natural Every Day."  It is a very loose as you can add any veggies you like.  I make it different from time to time playing with either using shallots vs onions or Parmesan cheese vs goat cheese.  But this is the basic version. I like to season mine with crushed red pepper and I add a diced up anaheim chile pepper for some added flavor there too.  Also you can leave the mixture in the fridge for 1-2 days and cook them up fresh as you please, you got to love that. 🙂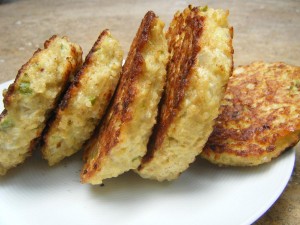 NOTE: If the batter is to dry, add some water. If it is too wet (which is usually the case, add some more bread crumbs or Panko.)
You will also like my Feta and Green Onion Couscous Cakes and also check out all my Quinoa Recipes. Have you tried Moni Quinoa Mac N Cheese yet?? Enjoy~
Follow Moni to connect on Face Book, Twitter, Pinterest, and Instagram (-to get a look of my everyday eats!)
EAT WELL. STAY FIT. FEEL GREAT.
Moni xx