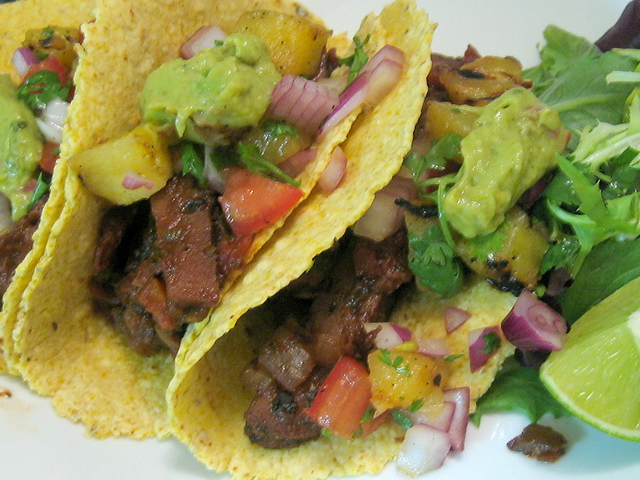 We love tacos, right? Now we can feel great about eating them. I love the flavors here. I come up with most of my recipes when I open my pantry. I had all of this ready to go.
Expect meaty texture from the seitan and black beans, some heat from the jalapeno pepper, onion and garlic for a nice background, and then the freshness of using great ingredients. NO LARD Tortilla here!
I love topping mine with chunky avocado, all-natural salsa, and hot sauce. Add anything you fancy…I sometimes make with taco shells or use tortillas, both are great.
NOTE:
If you have never heard of Seitan, you must try it and do not be scared, it has a meaty texture, a great source of protein, and is
tasty, tasty!
It is not made from soy and is just gluten-(the protein that is left after the starch is removed from wheat.)
It is a great meat replacement for chicken or steak
as it has a nice, chewy texture.
Ingredients
2 teaspoons olive oil
3/4 cup chopped onion
1/2 teaspoon dried oregano
2 garlic cloves, minced
1 jalapeño pepper, seeded and minced
1 tablespoon dry sherry
1 tablespoon low-sodium soy sauce
1 (15-ounce) can black beans, (low-sodium) rinsed and drained
1 (8-ounce) package seitan, finely chopped- Whole Foods carries a variety
1/2 teaspoon black pepper
12 taco shells or tortillas be creative; use whole-wheat tortillas, corn tortillas, or I am now officially addicted to uncooked wheat flour tortillas, the brand is "Tortilla Land" and they are all-natural, and amazing
2 cups shredded romaine lettuce
Avocado, cut into chunks
Salsa for topping, organic
Hot Sauce (optional)
Directions
Heat oil in a large nonstick skillet over med. heat. Add onion, oregano, garlic, and jalapeño; cook 8 minutes, stirring frequently. Stir in sherry, soy sauce, beans, and seitan; bring to a boil. Cook 7 minutes or until liquid almost evaporates. Sprinkle with black pepper.
Prepare taco shells according to package directions. Spoon about 1/3 cup (or more for wraps and tortillas if using instead of shells) bean mixture into each shell or wrap; top each taco with lettuce and Avocado chunks. Top with salsa and hot sauce if using. YUM!