If I had to pick the words… A Keeper. A Winner. These Brownies. Seriously. That is this recipe that I share with you today. Who in the heck does not love a brownie by the way? I wanted to create and develop some seriously incredible Gluten-Free Recipes. Here it starts with these spectacular brownies that are quite simple to whip up actually. 
Easy and Gluten Free? Yes. You heard correct! This is perfect for those who can't have gluten, are gluten intolerant, or like me – just like to try new things.
I present to you the absolute BEST "Gluten-Free" Brownie Recipe EVER. Bold statement you say? Well, I spent an entire day experimenting with this recipe until it was… well – perfect.
Just ask some of my neighbors and lucky friends who scored some. They were ecstatic at how good these were but then shocked to later find out that they were Gluten-Free. You see with many GF recipes, much of the time people can remark…"well that was good for being gluten-free." Not the case here. NO ONE knows they are gluten-free and now it is your turn to have this recipe to enjoy.
A sea of brownies….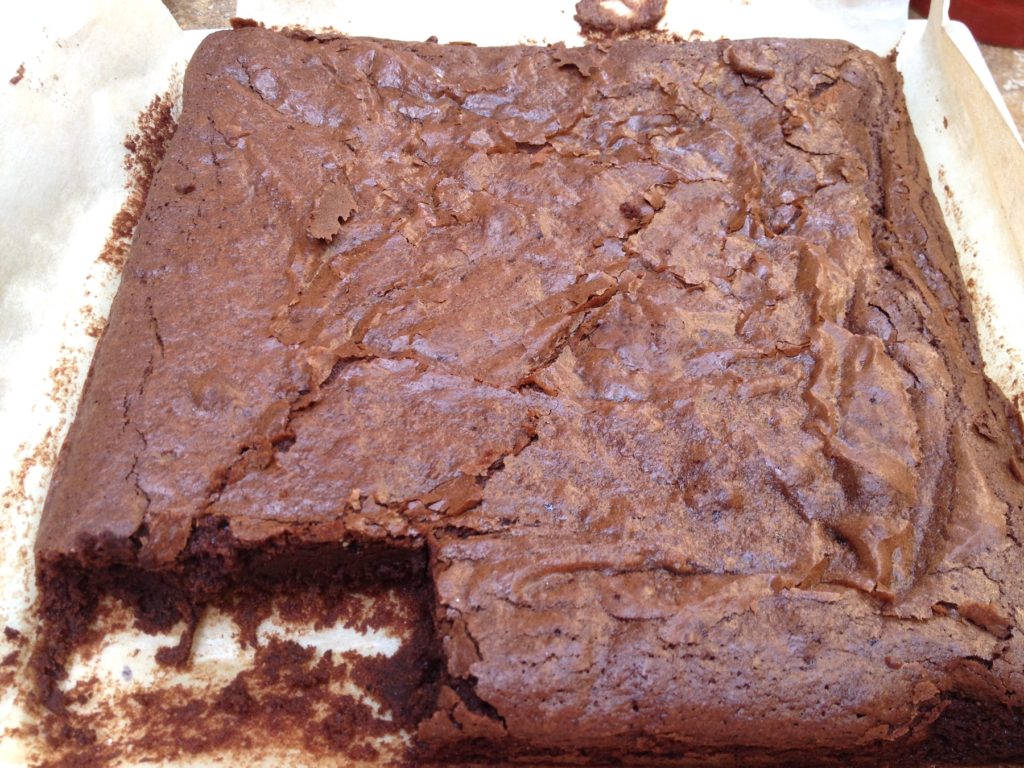 Plus I went the extra mile and made homemade caramel sauce but that is optional. (Recipe is below).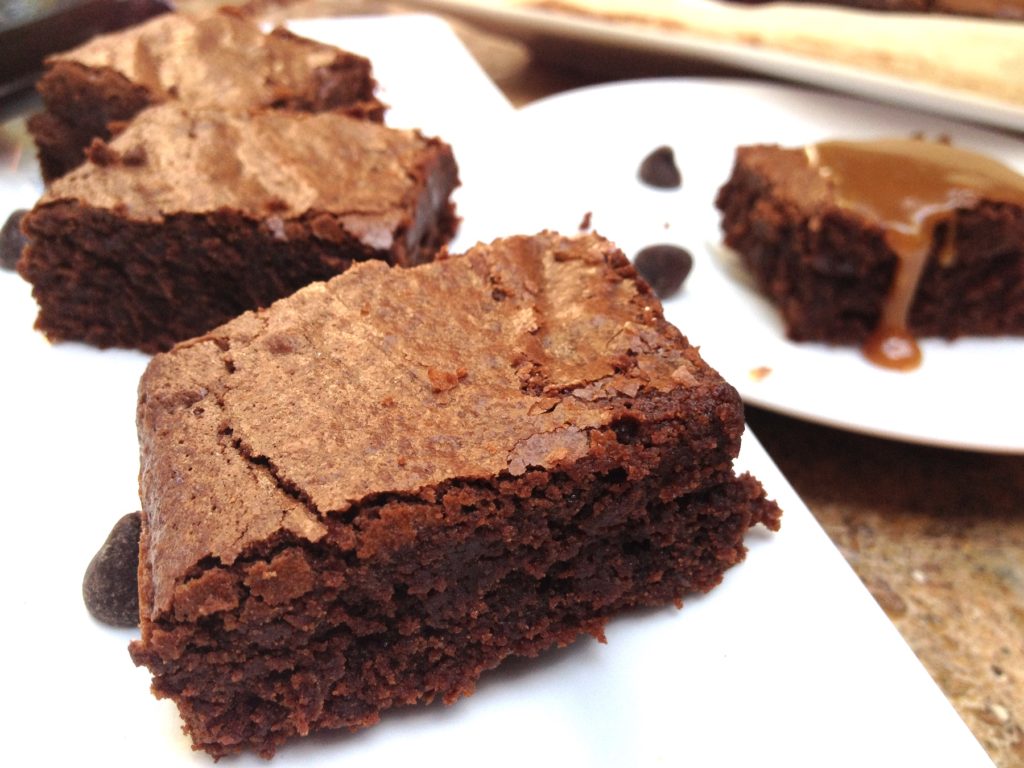 I am very particular with my brownies and I have so many recipes that I use. I find the best brownie is when you keep it real. This meaning real ingredients, real flavor, and real texture. Oh boy have I nailed this one.
Gluten Free Brownies with Caramel Sauce
SERVINGS: 23-26 Square Brownies

INGREDIENTS

1/2 cup of coconut oil, (melted) or 1 stick of butter works fine
1/2 lb. ( 8 ounces) chocolate, semi sweet or bittersweet
3 organic free-range eggs, at room temp
1 tsp pure vanilla extract
1 cup of coconut sugar or 1 cup of sugar (OR sweeter of choice), coconut sugar browns faster
1/2 cup of coconut flour (2 ounces)
2 tbs cocoa powder
1/4 tsp salt
a hit of cayenne pepper – optional Only a dash – a little goes a long way!
OPTIONAL Add-Ins: 1-2 tbs of caramel sauce (see recipe below), chocolate chips, white chocolate chips, peanut butter chips, macadamia nuts, walnuts, a nut butter, or dried cherries, etc. (I usually just stick with plain Classic Brownies but just know it is certainly easy to add these in).
BROWNIE DIRECTIONS:

1. Preheat oven to 350 F. Prepare a 8 x8 square pan with parchment paper. (See "NOTES" to double).
2. In a med sauce pan, melt your coconut oil (or butter). Remove from heat and add in the sugar and chocolate, stirring until smooth.
3. Whisk in the eggs until well incorporated. I do one at a time. Next add in the vanilla extract. If you want to flavor this differently – use a different extract (like peppermint) in replace of vanilla.
4. In a separate bowl; whisk the coconut flour, salt, and cocoa powder. If using the hit of cayenne pepper; add now.
5. Using a wooden spoon (is best) stir the dry ingredients in the chocolate mixture until just combined.
6. Pour your batter into your pan lined with parchment paper and bake at 350 F for 25 mins.
7. Remove from oven and let cool to room temp before slicing. I find a serrated knife is best to slicethese beauties up.
Enjoy! Great with a caramel sauce, fresh whipped cream, or vanilla bean ice cream.
HOMEMADE SALTED CARAMEL SAUCE (optional):
1/2 cup heavy cream, warmed
1 cup sugar
1 tbs water
1 tsp lemon juice
1/2 stick butter
1/2 tsp sea salt- secret ingredient!
1. In a SMALL saucepot warm the cream and set aside.
2. In a medium saucepot place; sugar, water, and lemon juice BUT DO NOT STIR THE SUGAR on mediumheat until they reach a golden caramel color. You may want to tilt the pot from time to time, but do not stir. I know it is so hard to not do – but TRUST ME!
3. Once you have reached the golden caramel stage, slowly (and carefully) add in the warm cream. Turnthe heat back on to med-low, and now stir in the salt.
4. Cook over this heat, stirring, occasionally, for about 3-5 mins. The caramel will thicken quite a bit. Turnoff the heat and add the butter. Mix together. DONE! This is how you make caramel. No chemicals needed. This is also great to make for gifts – as it makes quite a bit and you only need a spoonful.
Enjoy!