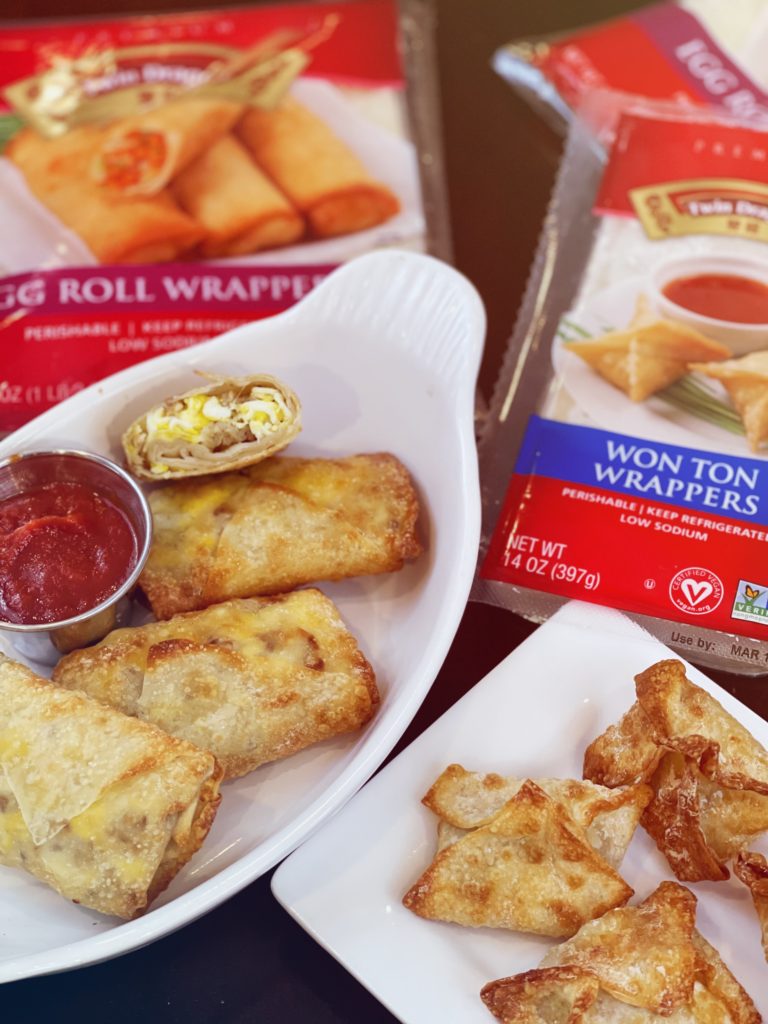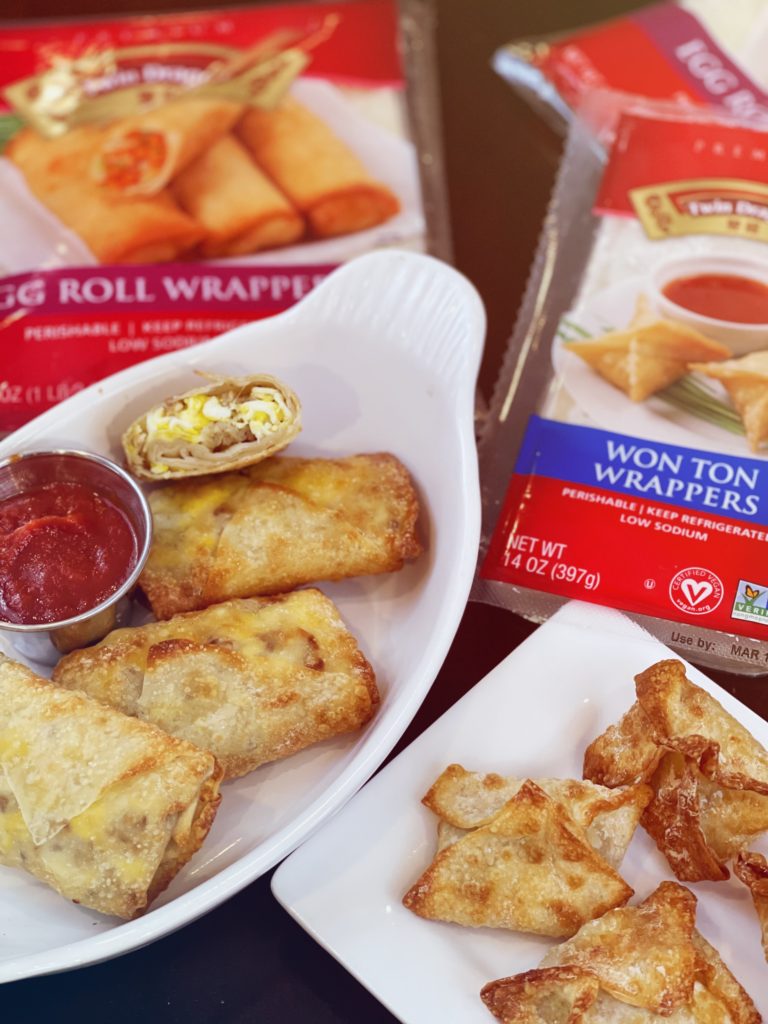 This post is for a fun entry for the "Twin Dragon Asian Wrapper Recipe Blogger Challenge." You'll love the recipe so much and it is so easy! Also perfect for say something like a game day or game night. All my opinions and recipes are my own. I have also used noodles before from JSL Foods (remember my delish Healthy Gluten Free Pad Thai!). Thanks always so much for supporting the brands that I enjoy!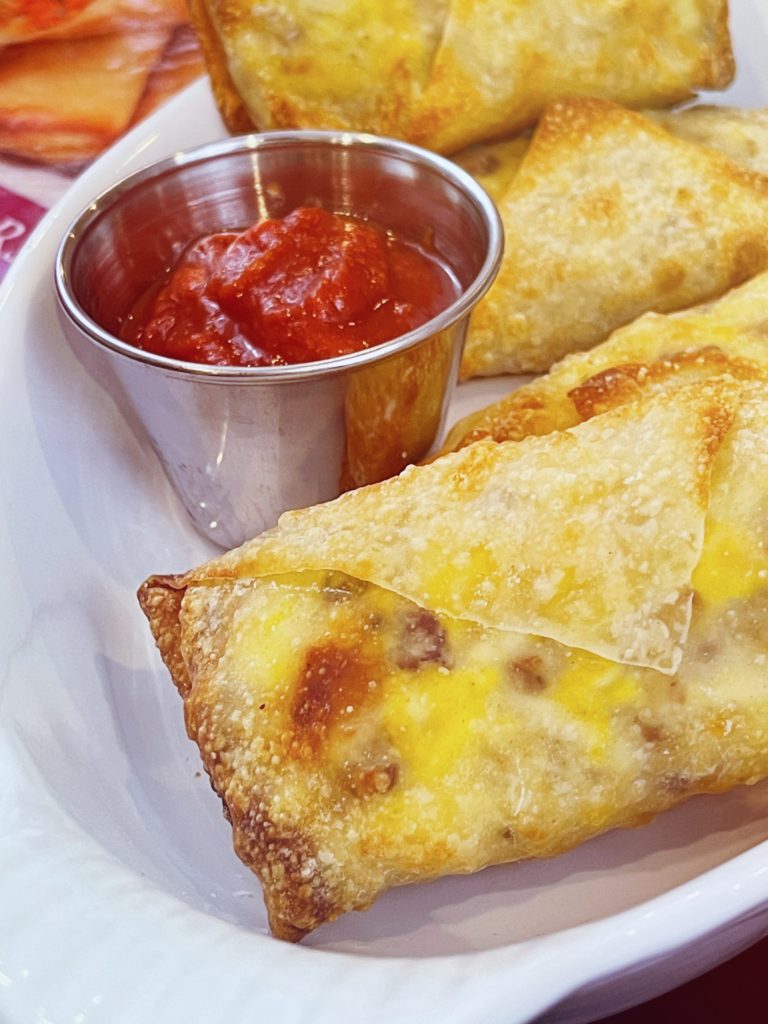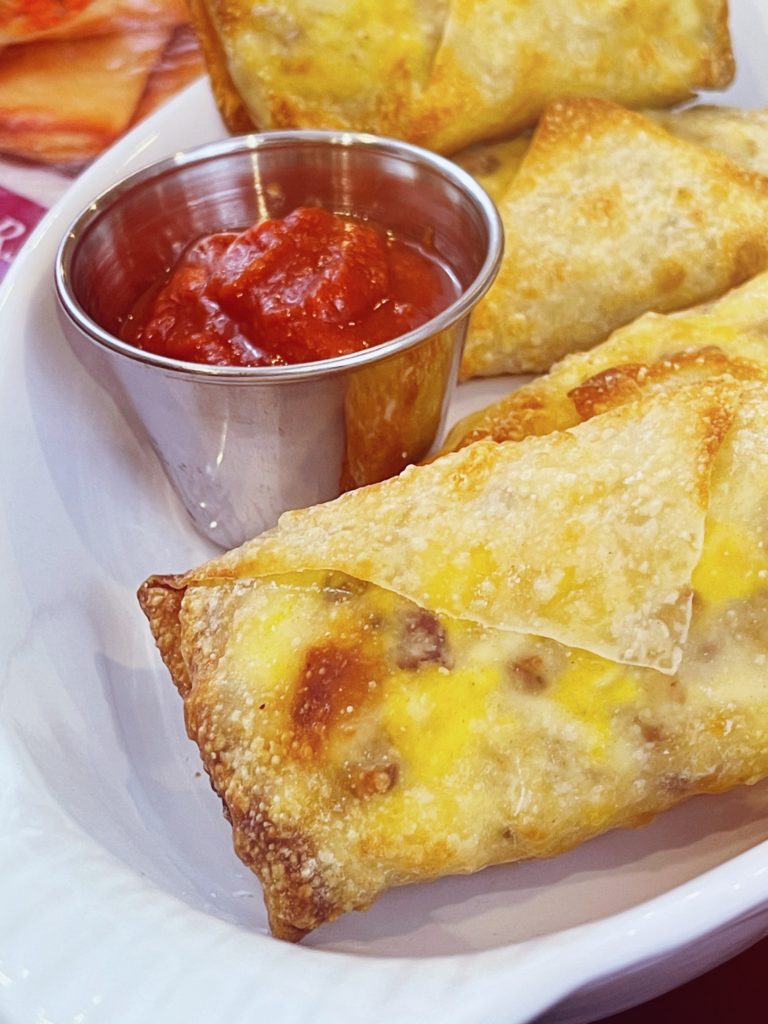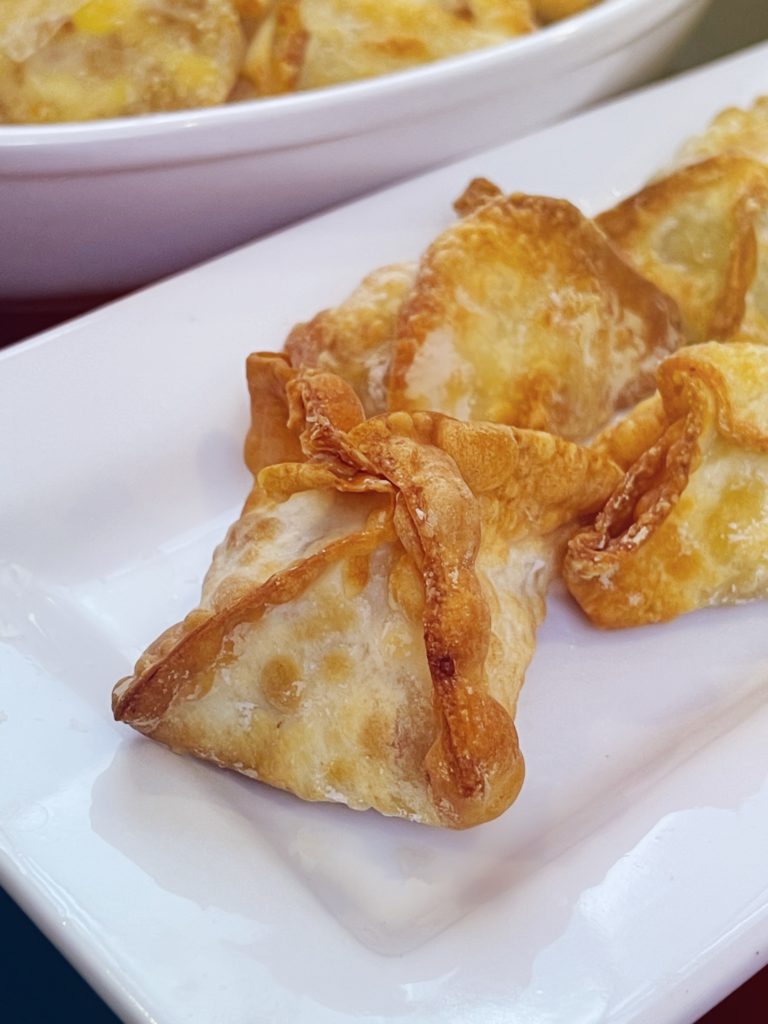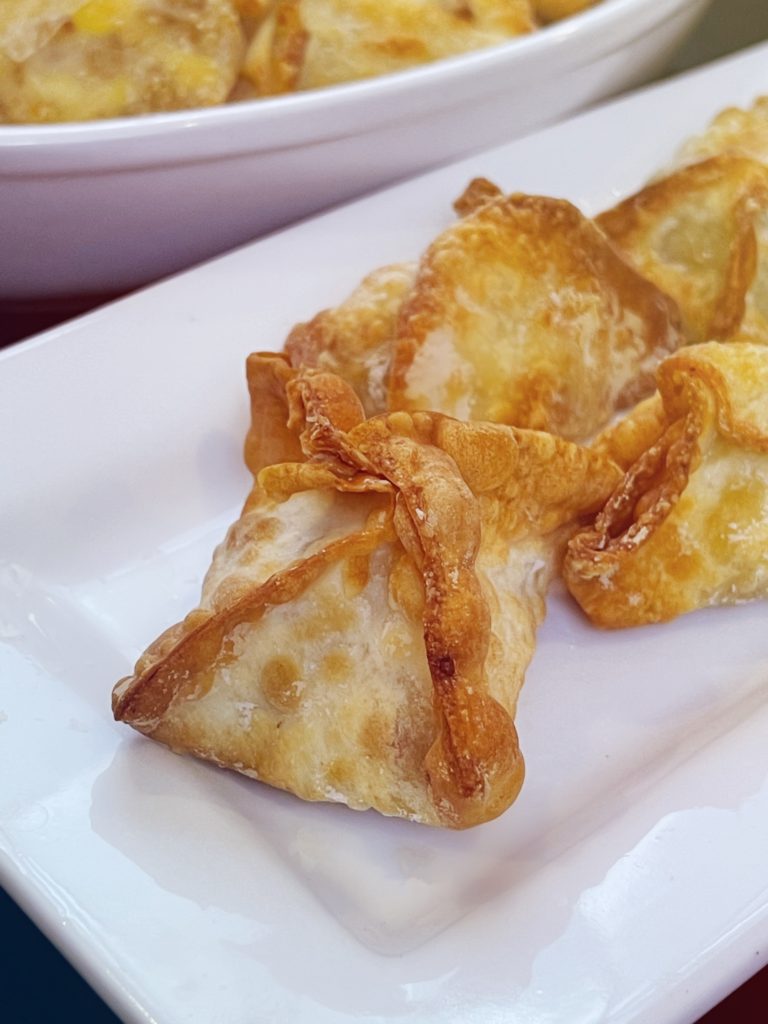 Let's get started…
So in college, believe it or not, I worked at the local Chinese restaurant mainly as a delivery driver but also helped out the staff to make the famous wontons and egg rolls. I know, I know… true story. This allowed me to be pretty comfortable and creative with these wrappers over the years. So boy, do I have a DELICIOUS wonton and egg roll recipe for you today! Not to mention – you can go with a wonton style, a egg roll style or both!
I present….
EGG, CHEESE AND SAUSAGE BREAKFAST WONTONS & EGG ROLLS!!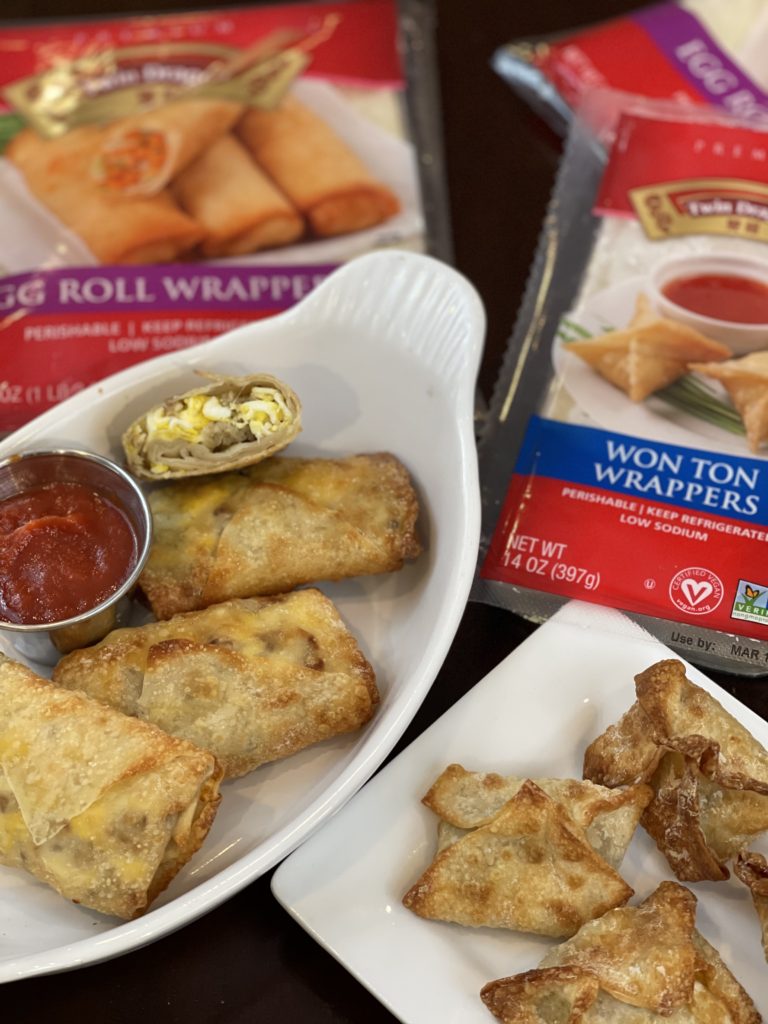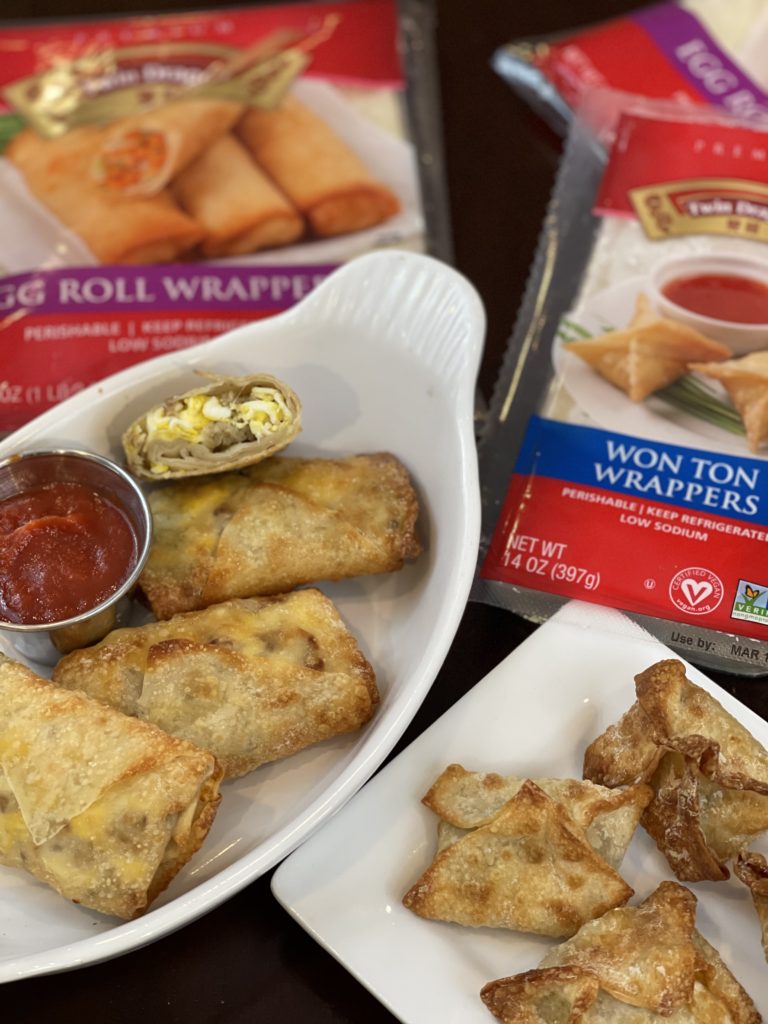 This recipe is perfect because it is low maintenance, easy and a perfect "B,L,D" – breakfast, lunch or dinner. Think scrambled egg meets wonton/egg roll deliciousness! The extra cool thing that we are doing for this recipe too is using the air fryer to avoid deep frying. However, if you do not have an air fryer – that's no problem as I will also share how to make this easy recipe without one as well.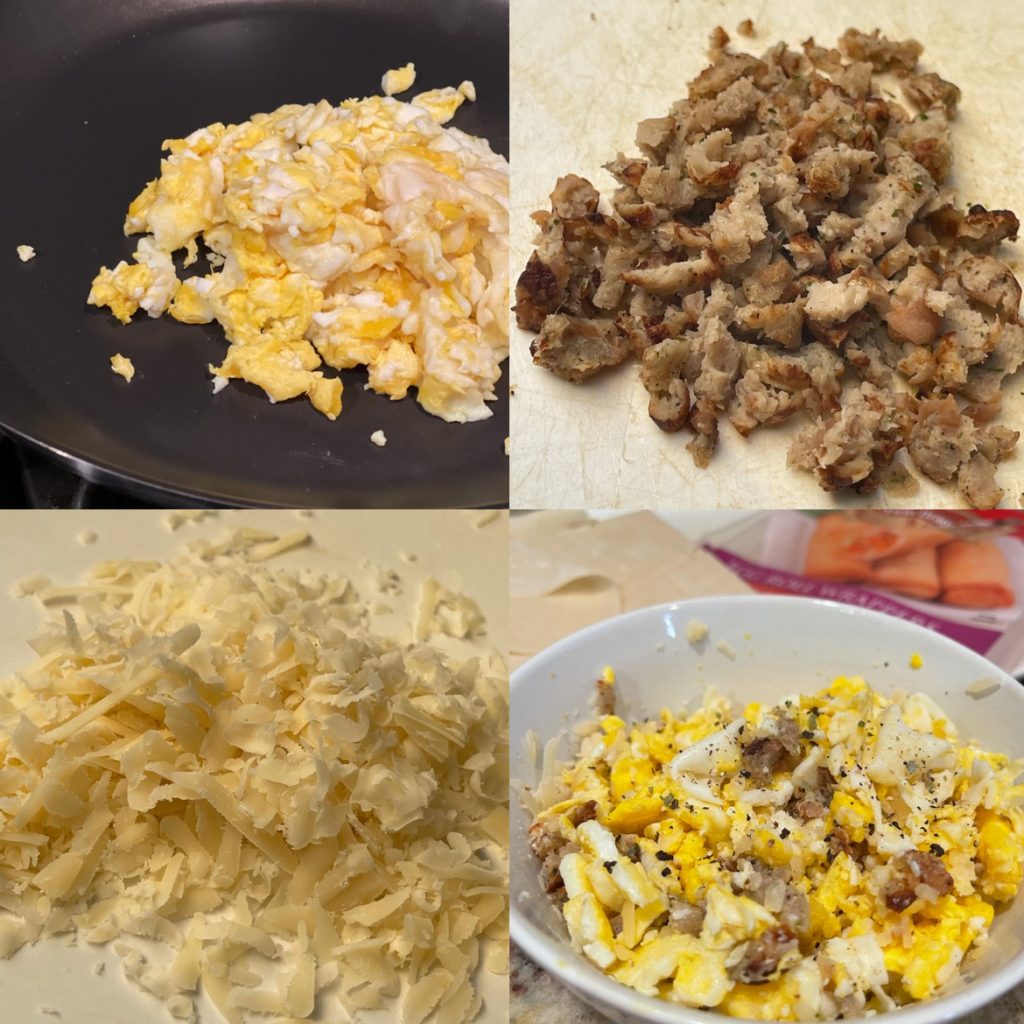 Notes: You can also use bacon instead of sausage, any of your favorite cheese and also your favorite dipping sauce. We like ketchup and hot sauce in our house.
INGREDIENTS:
3 eggs scrambled eggs
3 sausage links cooked (or can 3-4 slices of cooked bacon)
3-4 tablespoons of shredded cheese, we used white cheddar
Salt and pepper to taste (or other seasonings you like)
15- 20 Twin Dragon Asian Wrappers
2 tablespoon olive oil for coating the wontons
Ketchup or hot sauce for serving (not hot sauce for the little ones!)
DIRECTIONS:
Combine scrambled eggs, sausage and cheddar cheese in a small mixing bowl. Add your favorite seasonings now. Mix again. Place a bowl of water next to your air fryer or pan as a "wash" to help seal wontons and egg rolls. Working one at a time, add 1 small spoonful of egg mixture to the center of each wonton wrapper. Dip a finger into the water, and trace the perimeter of the wrapper. Fold the wonton in half and seal tightly all around. Make sure there are no air pockets or holes in the wonton. Place sealed wontons under a moistened paper towel to avoid drying out. Next follow same steps to make a batch of egg rolls.
When all wontons and egg rolls are folded and sealed you have 2 choices.
For Air Fry cooking: Place them in your air fryer basket (sprayed with cooking spray), but make sure they aren't stacked or touching. You'll probably need to do this in two batches. Brush the wontons/egg rolls with a very light coat of oil before air frying. That will help really crisp up the shell. Place the basket in the air fryer and turn the air fryer to 350°F. Cook for 6 to 7 minutes, then flip the wontons/egg rolls, spray or brush with oil a second time on the bottom side, and cook for another 4 to 5 minutes. Note: There are many different kinds of air fryers out there so if you have an air fryer that's also a combination toaster oven for example, you may need to use the fryer basket on the lower rack to prevent burning.
For Pan Fry Cooking: Heat oil in a medium nonstick skillet over medium-high heat. Add egg rolls/wontons to pan (they should sizzle when they hit the pan… if not, oil is not hot enough yet) and cook approximately 2-3 minutes, shaking the pan occasionally, until the pan-side of the egg rolls/wontons are golden brown. Add 2 tablespoons of water to skillet, cover with lid, and cook for 2 minutes, shaking occasionally. Remove cover and cook until water evaporates and are cooked through.
Next you want to place your wontons and egg rolls on a platter and serve with ketchup or sauce of choice. Serve warm. Enjoy now for a breakfast, or heck even a lunch, snack or dinner!! Perfect for entertaining. Not too mention, my three year old loooooooves them! So much in fact that he invited "monkey" to have a bite too. 🙂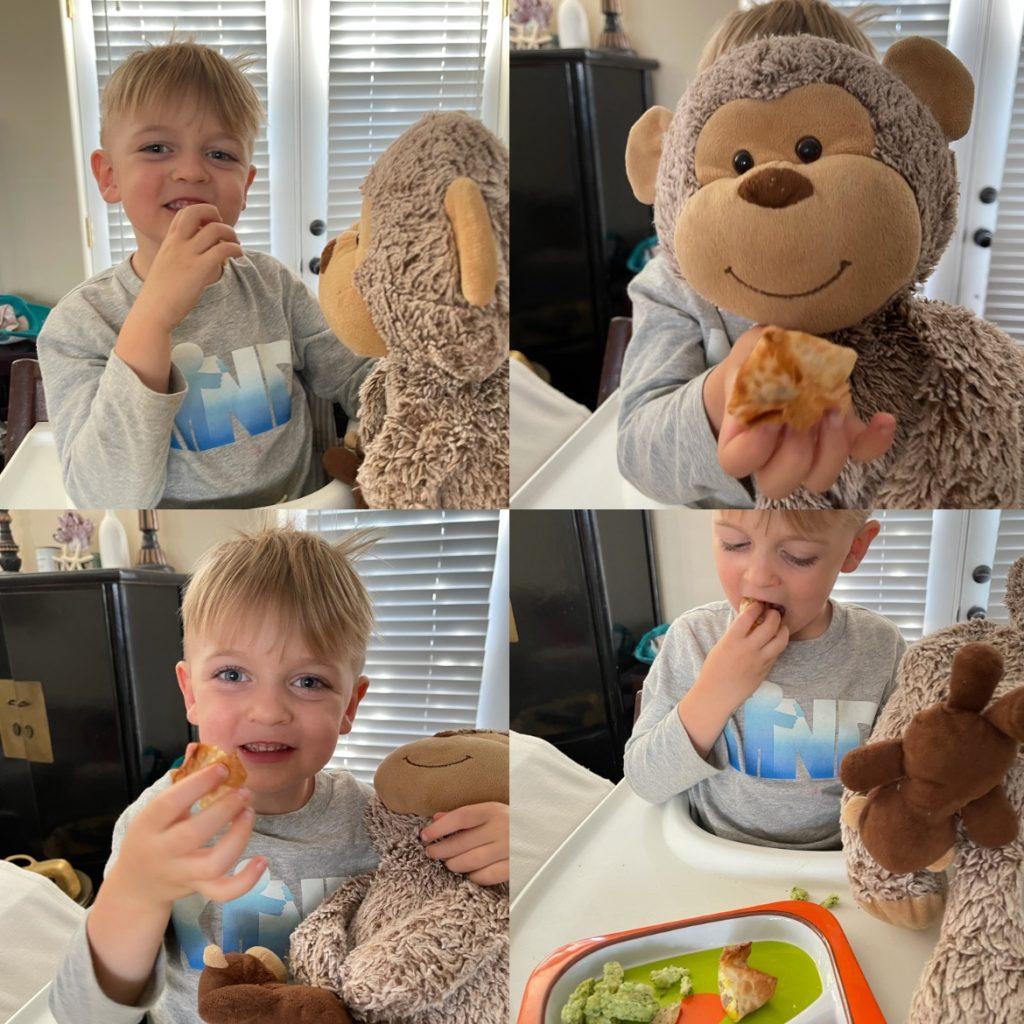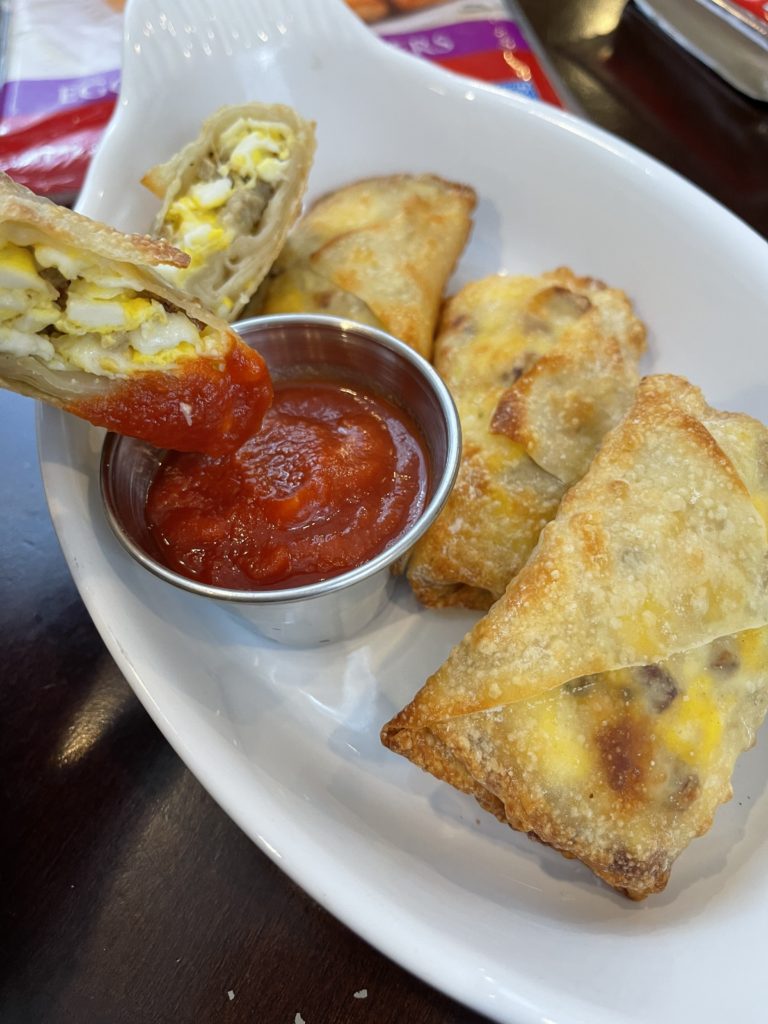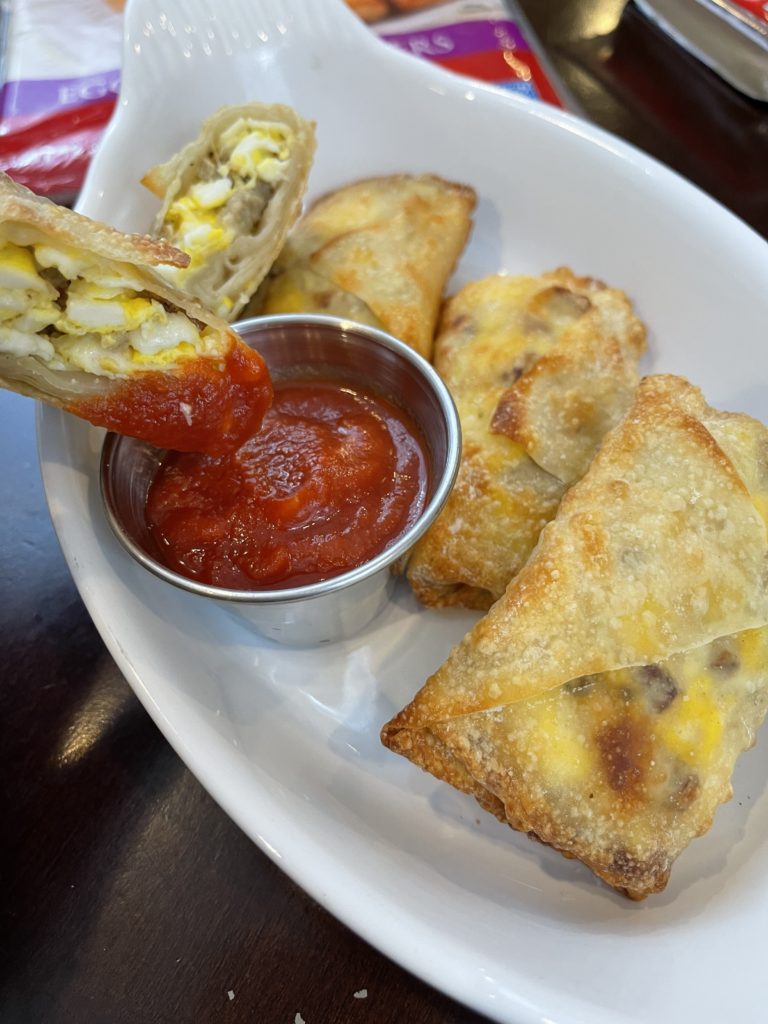 This recipe is SO easy and unique. I hope you enjoy it as much as we do. For those wanting to know the best wrappers to use: I recommend Twin Dragon Wrappers found at Walmart, Albertsons, Shaw's, Von's, Stater Bros, Fred Meyer, QFC, Safeway, Associated Stores, Giant Stores, Shop N Shop, Winco, and Price Chopper.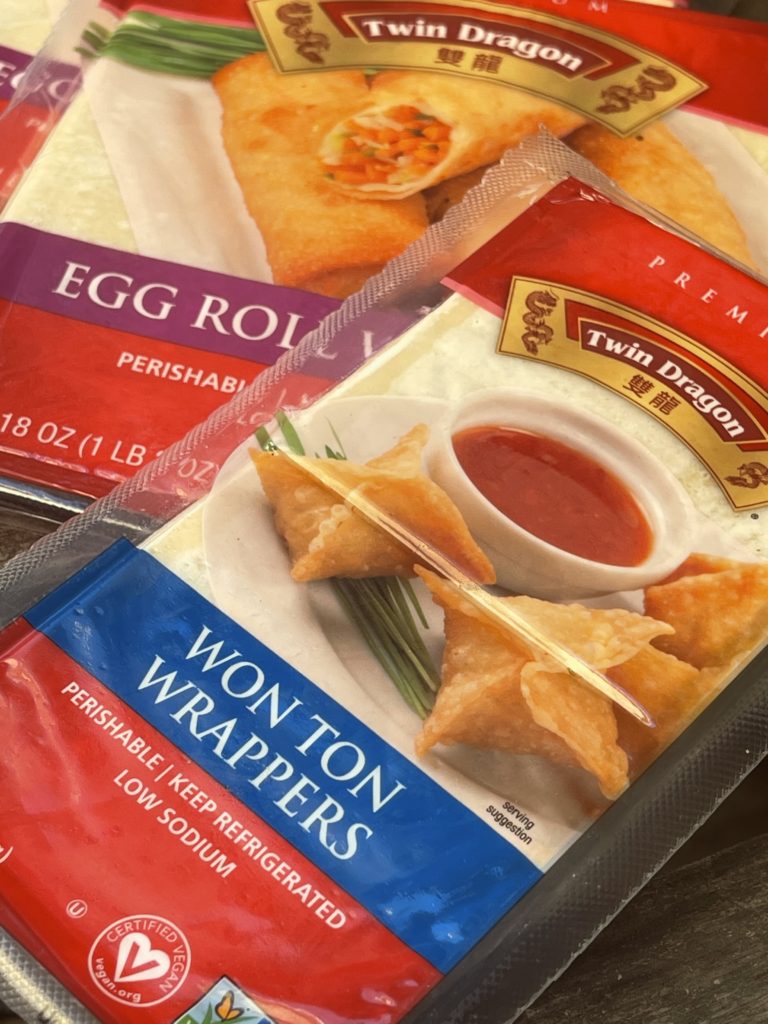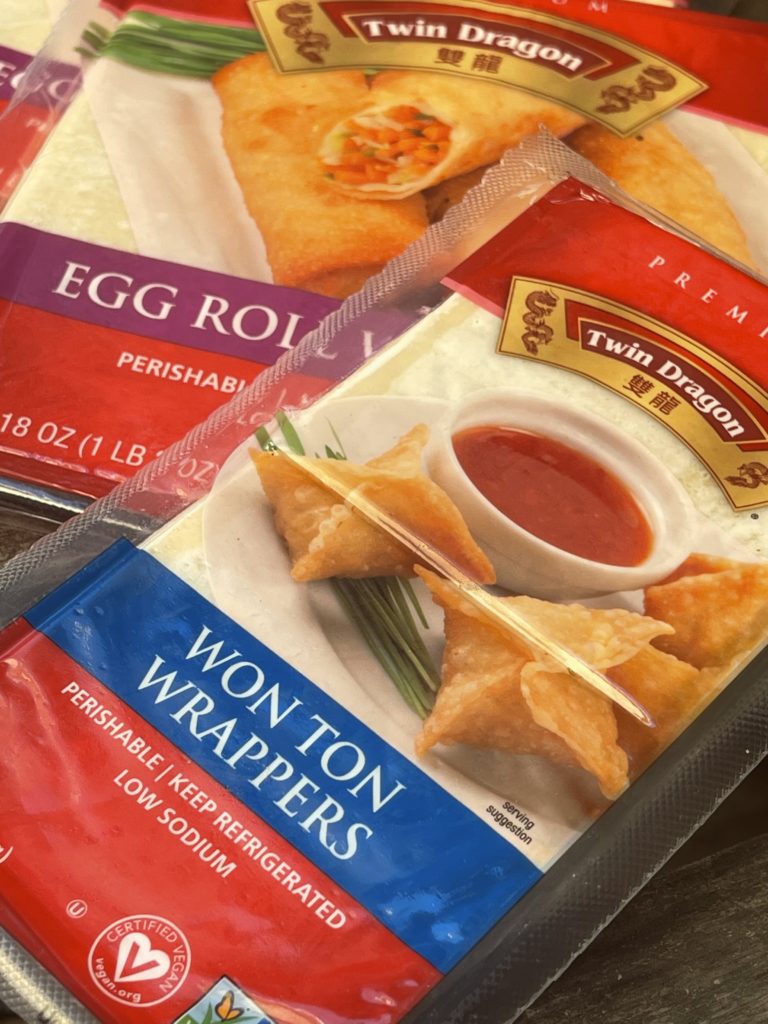 To learn more about JSL Foods follow them on Facebook, Twitter and Instagram for recipes and tips!
#TwinDragon #ChefYaki