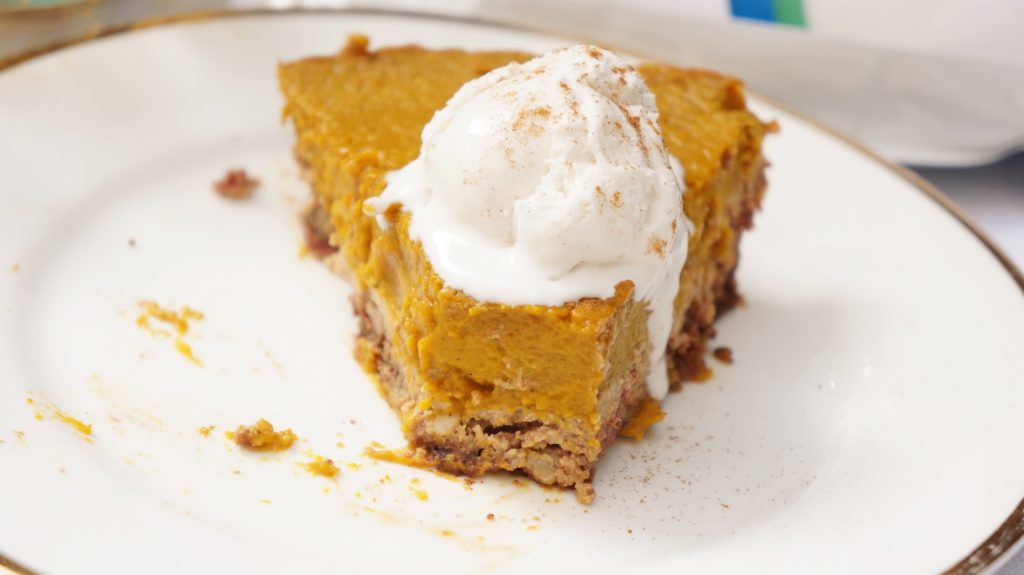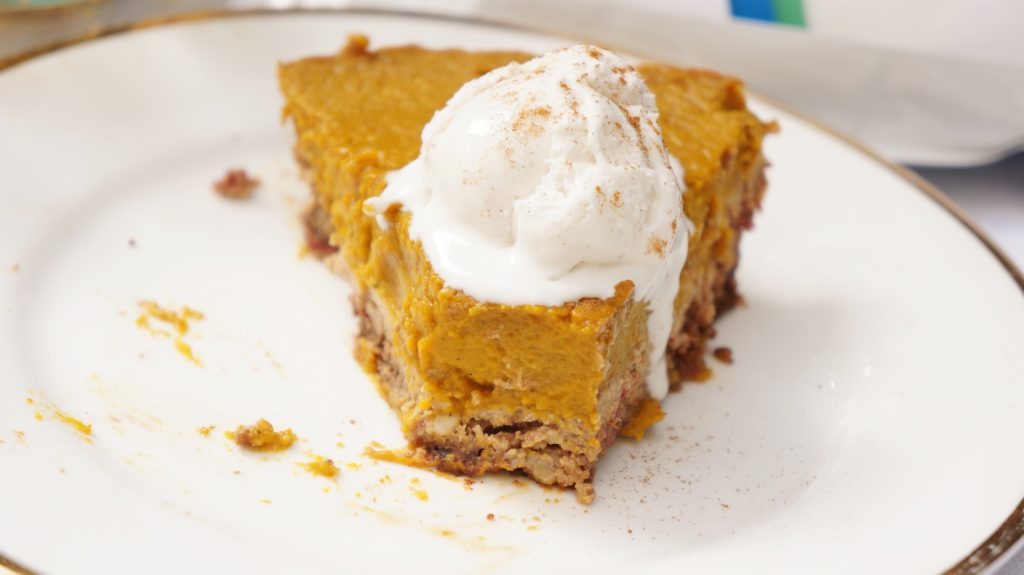 One word. SATISFACTION.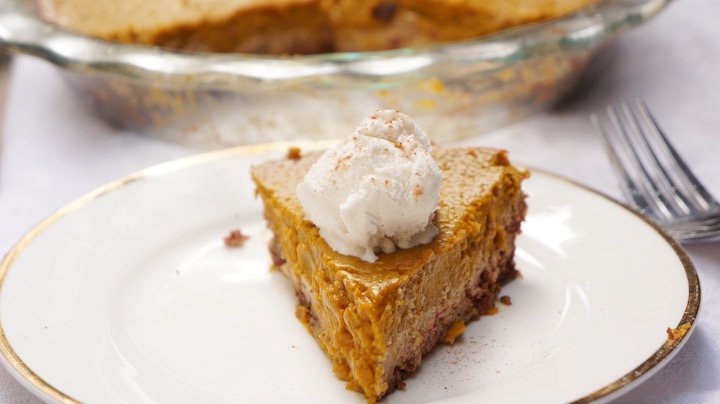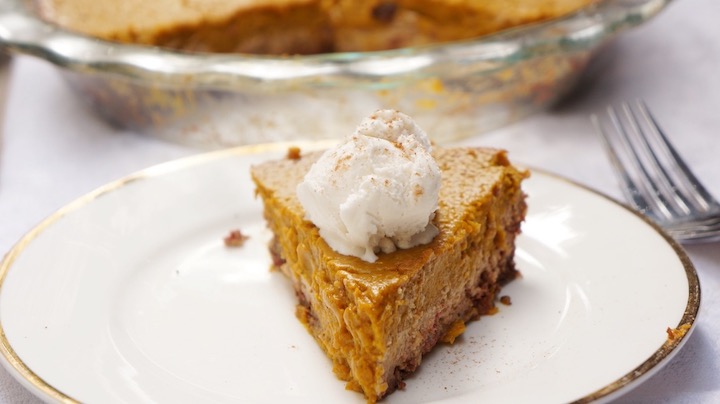 Second word. DELICIOUS.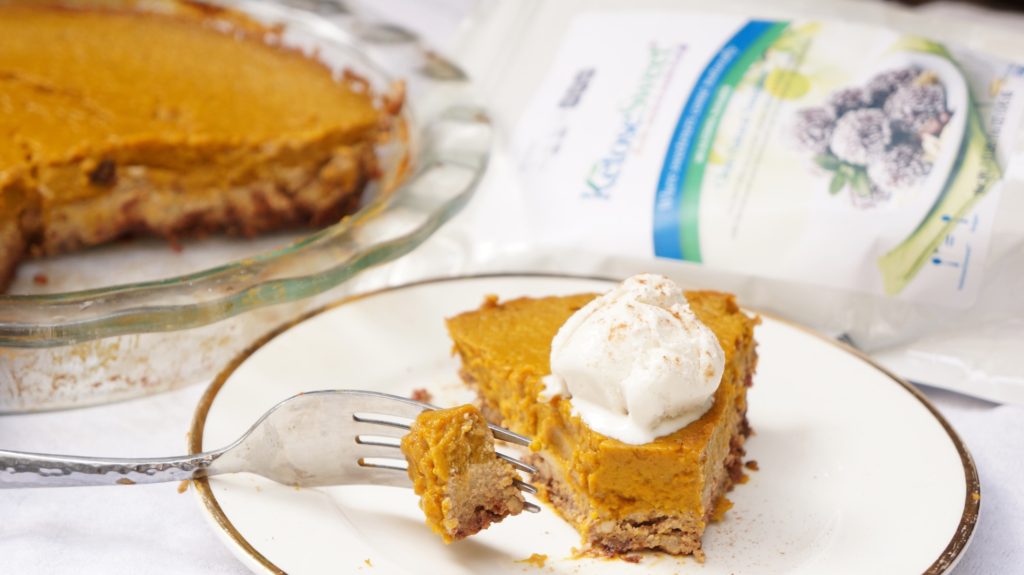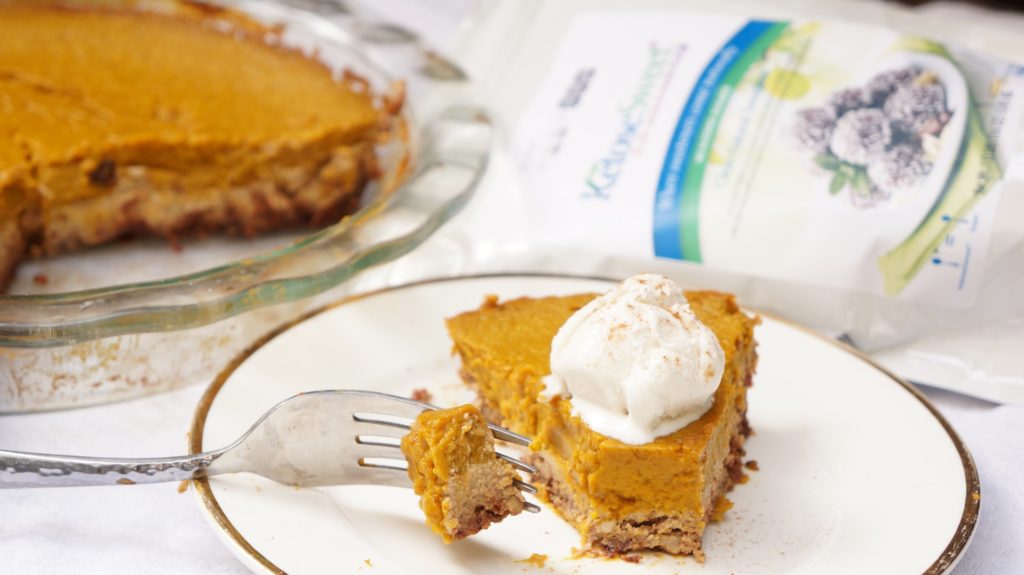 Third word. DOWN TO EVERY LAST BITE!
It's not Thanksgiving (or Fall) without it. I'm talking about Pumpkin Pie but today… we are talking a low sugar pumpkin pie that will blow your socks off. This a very easy recipe to follow. As a matter of fact, my husband participated and said "wow, this is easy, if I can do this – anyone can!"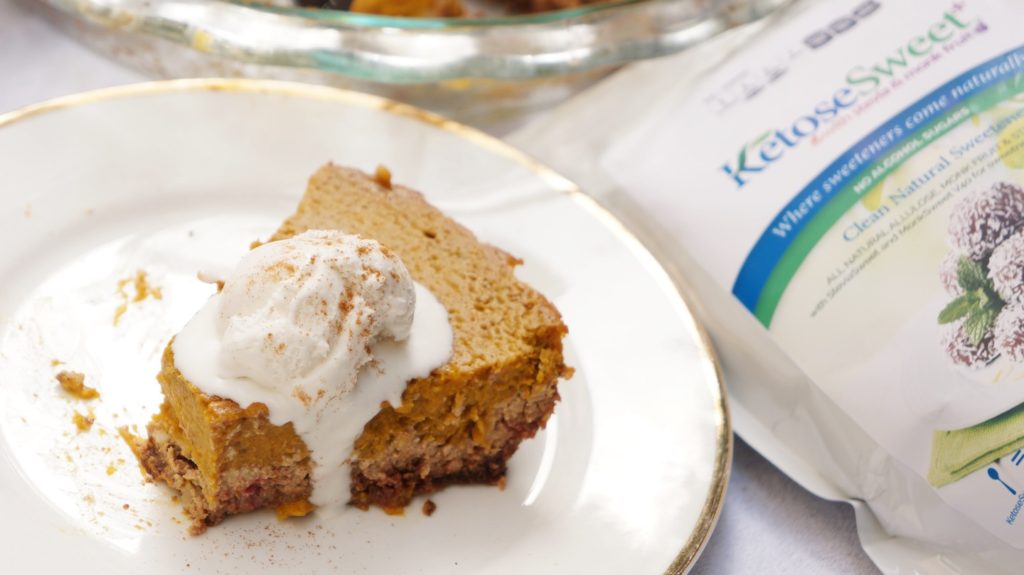 Low In Sugar. Dairy-Free. Gluten-Free. Grain-Free. Paleo Friendly… and EASY!!! 
The filling is so perfect and the best part… LOW in sugar.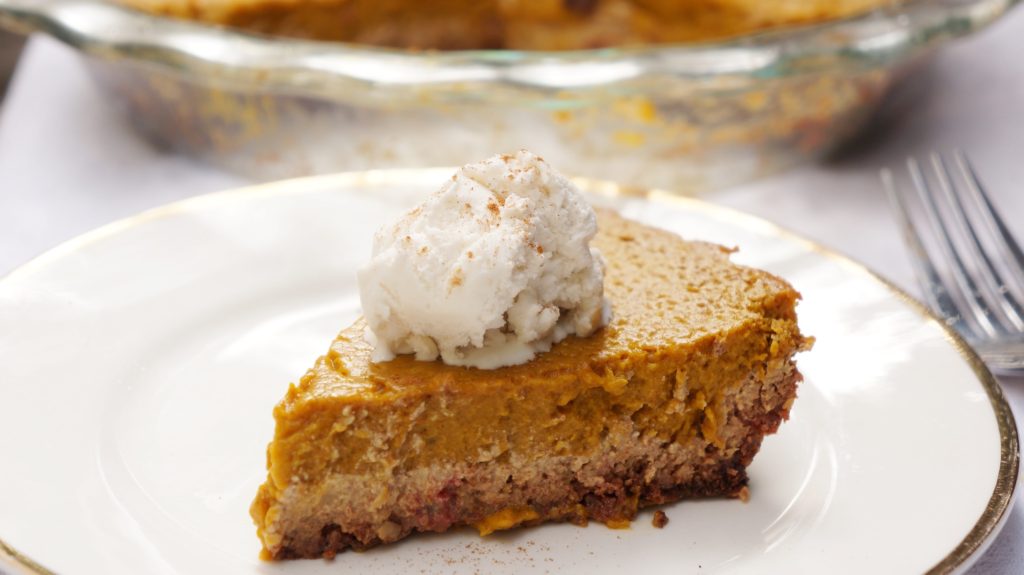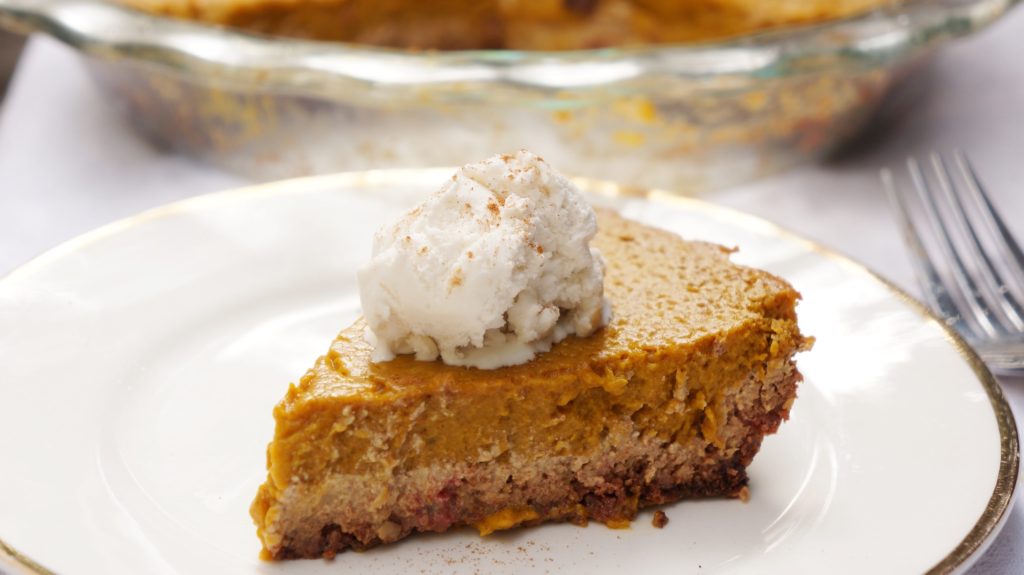 Also this pie is amazing the next day and if you are anything like me then you'll love it for breakfast too.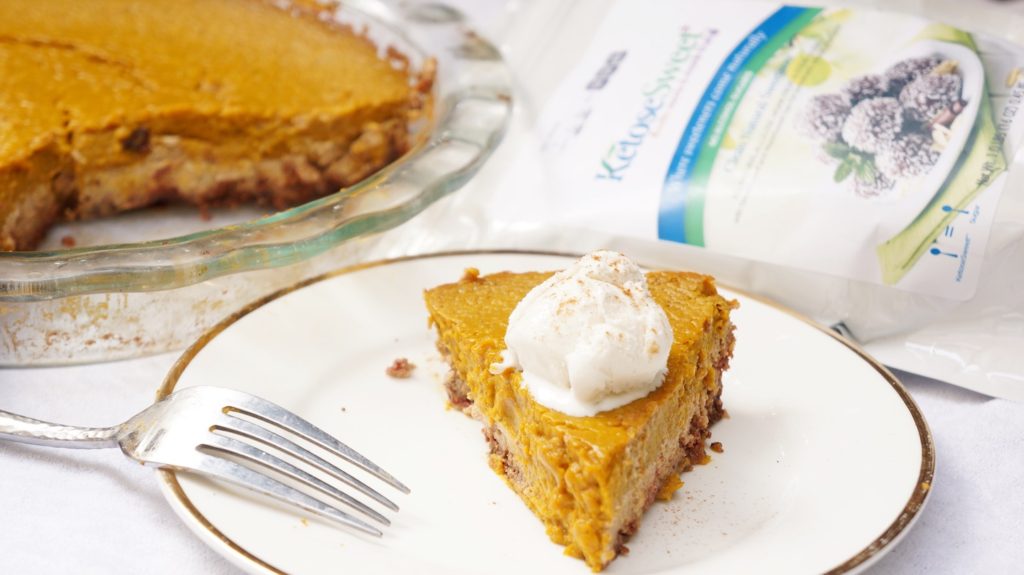 But let's not forget about this "4 ingredient" crust! OH MY. The walnuts add such a great taste and texture.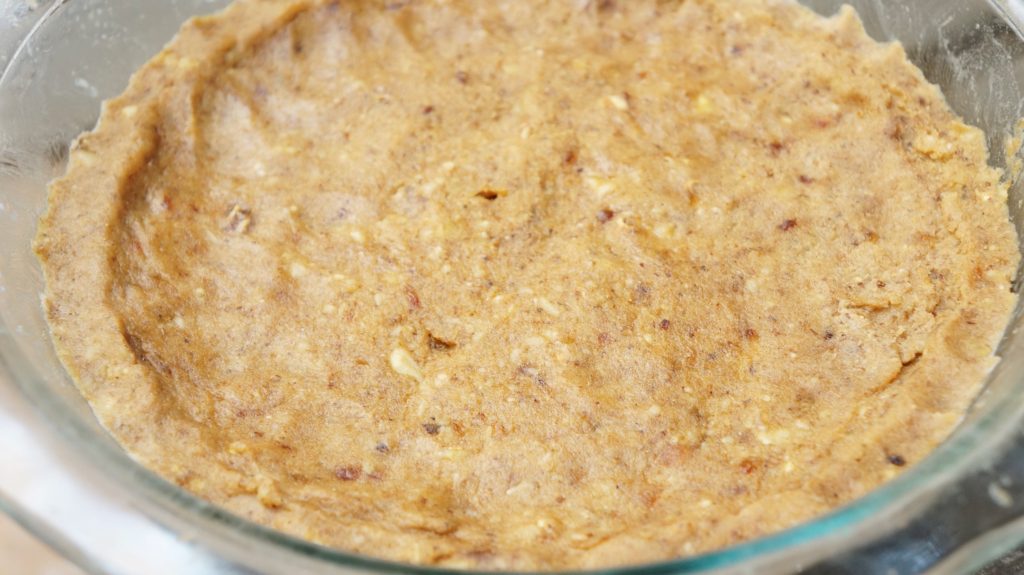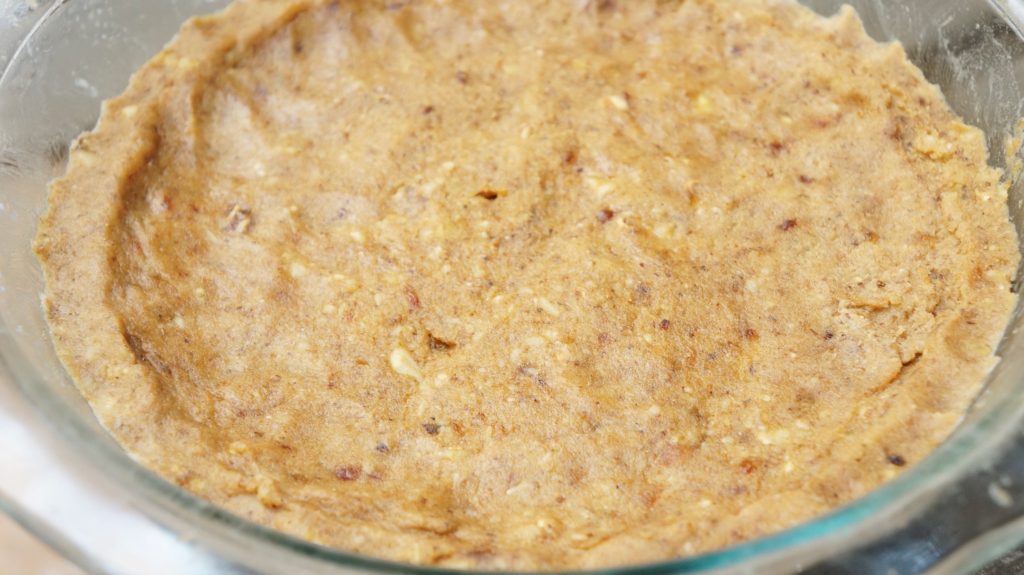 Yes…this crust is only four ingredients and absolutely DELICIOUS! It has them all going "hmmm… what is that?!"
SOME RECIPE NOTES:
Start with 1/2 cup almond milk and work your way up just to make sure you get the right consistency.
Also if your crust does not get sticky, just try adding a few more dates for the right texture.
Don't forget your favorite dollop of whipped topping (optional).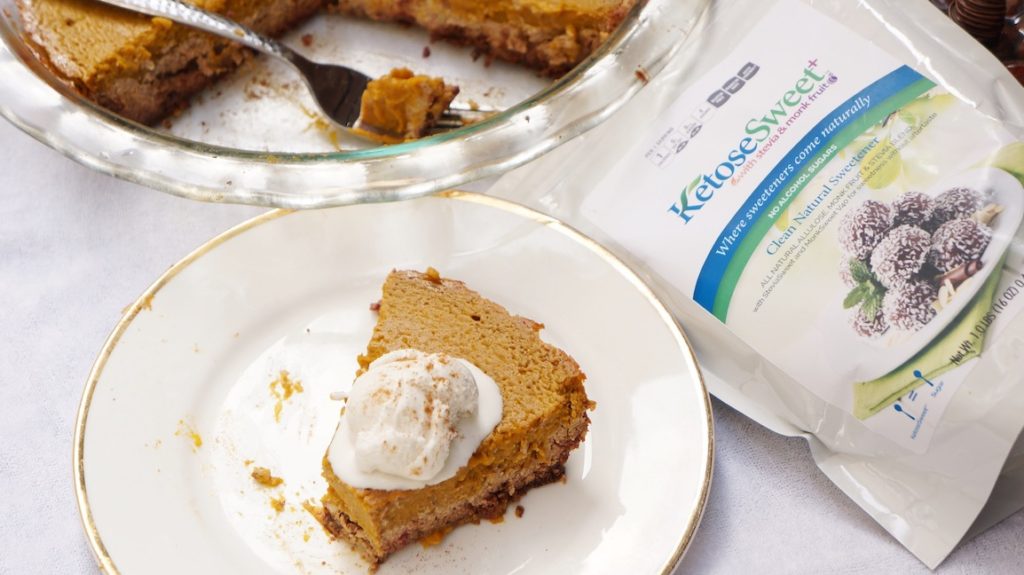 Enjoy!
Follow Moni to connect on Face Book, Twitter, Pinterest, and Instagram (-to get a look of my everyday eats!)
EAT WELL. STAY FIT. FEEL GREAT.
xx
Lower Sugar Pumpkin Pie
INGREDIENTS
Pumpkin Pie Filling:
•1/2 cup-3/4 cup unsweetened almond milk (start with 1/2 cup first and see if you need more)
•2 large egg whites
•1 15 oz can pureed pumpkin
•2-3 tbs a sugar-free sweetener of your choice (depends on your level of sweet)
•1 tsp pure vanilla extract
•2 tsp Pumpkin Pie Spice
Crust:
•10 dates pitted, soaked in water for about 1 hour
•1 tablespoon sugar-free sweetener
•3 cups walnuts raw and unsalted
•1/2 tsp cinnamon I use coconut whipped cream for topping (optional)
DIRECTIONS
1. Preheat oven to 350 F.
2. Drain the dates and place in a food processor or blender with walnuts, sweetener and cinnamon.  Keep processing until it becomes a sticky mixture that sticks together. If this doesn't happen, then you need to add more dates to make it stick together.
3. Transfer the crust to a round pie dish. Pressing the crust into an evenly layer, pressing it firmly into the pan and corners.
4. Next make the pumpkin filling by adding the ingredients for the filling to a food processor or blender. Blend until all ingredients are incorporated and smooth. Pour the pumpkin filling over the crust. Bake 45-50 minutes at 350 F until the pie is set and edges are firm. Remove from the oven and cool 1 hour at room temperature. Ready now and fantastic the next day too! ENJOY.