Today I have a "personal" topic to discuss which you may have also pondered at some point. When it comes to natural deodorants you may have already asked yourself things like, "Do they even work?" or "What's the big deal anyway?" 
Honestly, I have been trying to find a natural deodorant that actually works for quite sometime and felt like many on the market usually fall short in one way or another. 
As an athlete and a fitness professional, I'm not willing to waste anymore time on deodorants that don't make the cut! Today I want to discuss and share all there is to know about deodorants and what some great alternatives (that work) are and what's now available.
Facts to know about typical deodorants:
First, antiperspirants that are not "all-natural" will contain aluminum as the active ingredient. This ingredient is added to keep your underarms non-sweaty and "so-called" fresh. Aluminum salts in the form of aluminum chloride, aluminum zirconium, aluminum chlorohydrate and aluminum hydrobromide prevent us from sweating. When aluminum ions are drawn into the cells that line our sweat ducts it causes the cells to swell and squeeze the ducts closed so our sweat cannot release. While this may sound great, aluminum is also known as a neurotoxin potentially linked to several conditions like breast cancer and neurological disorders such as Alzheimer's disease. It's also disturbing to think that we are essentially blocking our sweat ducts from doing what they are supposed to do, which is allowing us to naturally sweat!
Sweating is so important for detoxification and we read more and more studies to support this. This is an important fact to remember, as well as avoiding already known toxins.
In addition to aluminum, other questionable ingredients to avoid include:
Triclosan

Talc powder

Fragrance

BHT

Penetration enhancers. 
Of course the real concerning risk factor of many of these ingredients (mainly aluminum) is a long-term exposure. 
A Natural Alternative (YES, it really works)!
I am hoping you are not full of doubt but instead interested to investigate other safe alternatives. Fortunately, as more information comes to light on these chemical ingredients, more companies are developing safer alternatives. It's becoming easier to find great brands and I am beyond thrilled to have discovered NEW NOW® Solutions Deodorants. They offer several deodorant options for underarms (and feet) which I have used and love!  The Long-Lasting Deodorant Stick with scents such as Lavender, Rose, Cedarwood and Unscented, are free of aluminum and talc and was scientifically formulated to eliminate odors for days at a time. The Nature's Deodorant Stick is a natural kalinite crystal and is free of harsh chemicals, oils, alcohol, preservatives and harmful forms of aluminum. It leaves a thin layer of odor controlling mineral salts and offers long-lasting protection.
Here's what I love about these products: 
Free of harmful forms of aluminum, talc, parabens, sulfates, mineral oil, petrolatum, propylene glycol, silicones, artificial colors and fragrances.

NOW® Solutions products are analytically tested to assure the highest quality.

NOW® Solutions products are not tested on animals.
Plus, if you have sensitive skin you may feel a real difference with one of these less harsh alternative deodorants. Nothing to lose by trying it out! 
I am thrilled that NOW® Solutions products enable me to keep my routine while feeling fresh and confident. I count on all natural products like these to do a great job by consistently avoiding harmful or toxic ingredients. I just had to share. HOORAY!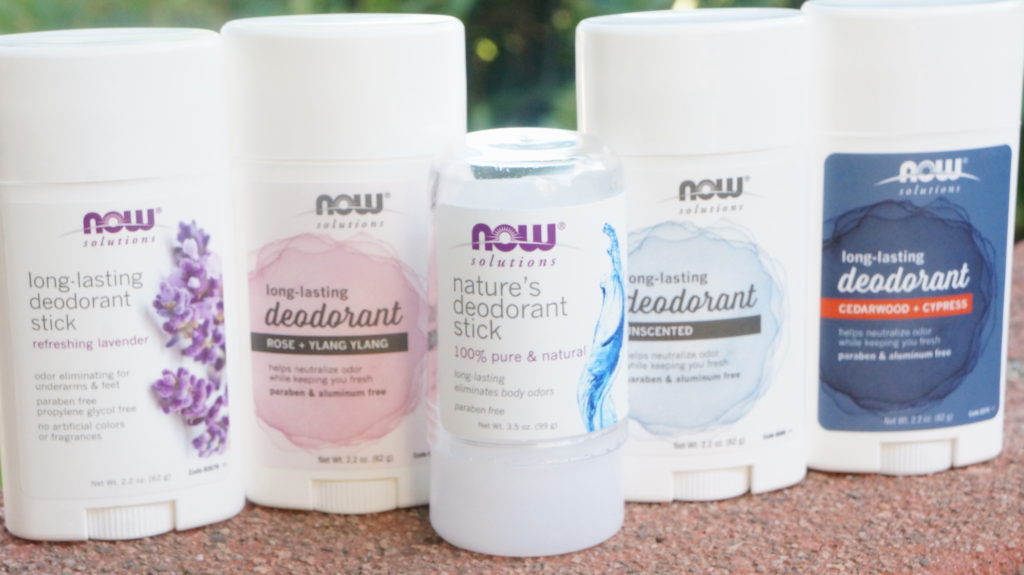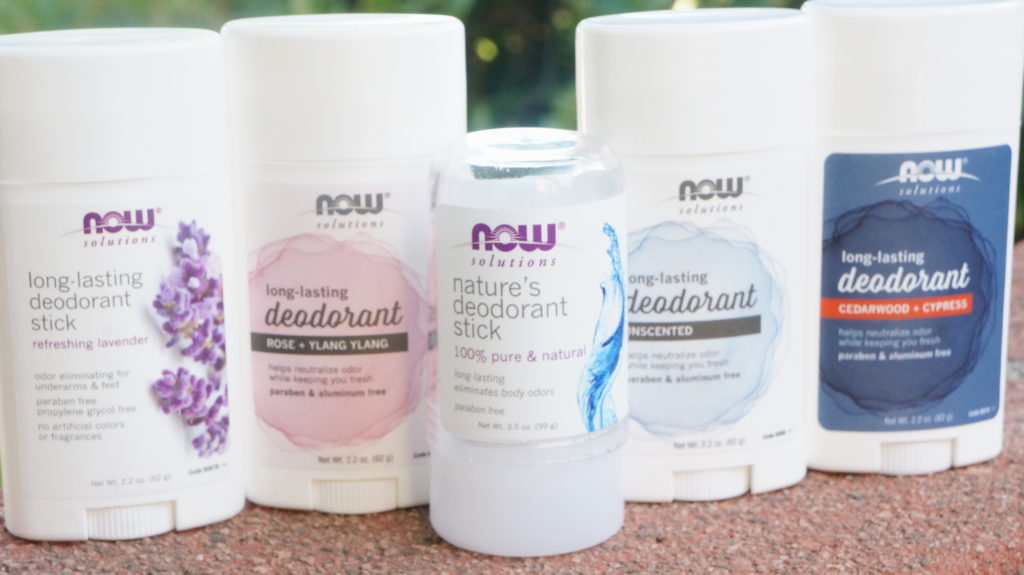 MAKE SURE TO CHECK OUT @NOWFOODSOFFICAL ON INSTAGRAM AND FACEBOOK FOR TONS OF HEALTHY IDEAS, RECIPES, PRODUCTS & MORE! 
So talk to me! I want to hear what you think!
H
ave you tried all-natural deodorants, or is this new information to you? 
FOLLOW MONI TO CONNECT ON FACE BOOK, TWITTER, PINTEREST, AND INSTAGRAM(-TO GET A LOOK OF MY EVERYDAY EATS!)
EAT WELL. STAY FIT. FEEL GREAT. XX
THIS IS A SPONSORED POST BY NOW. ALL MY OPINIONS ARE MY OWN.