This cannot get any easier or more delicious…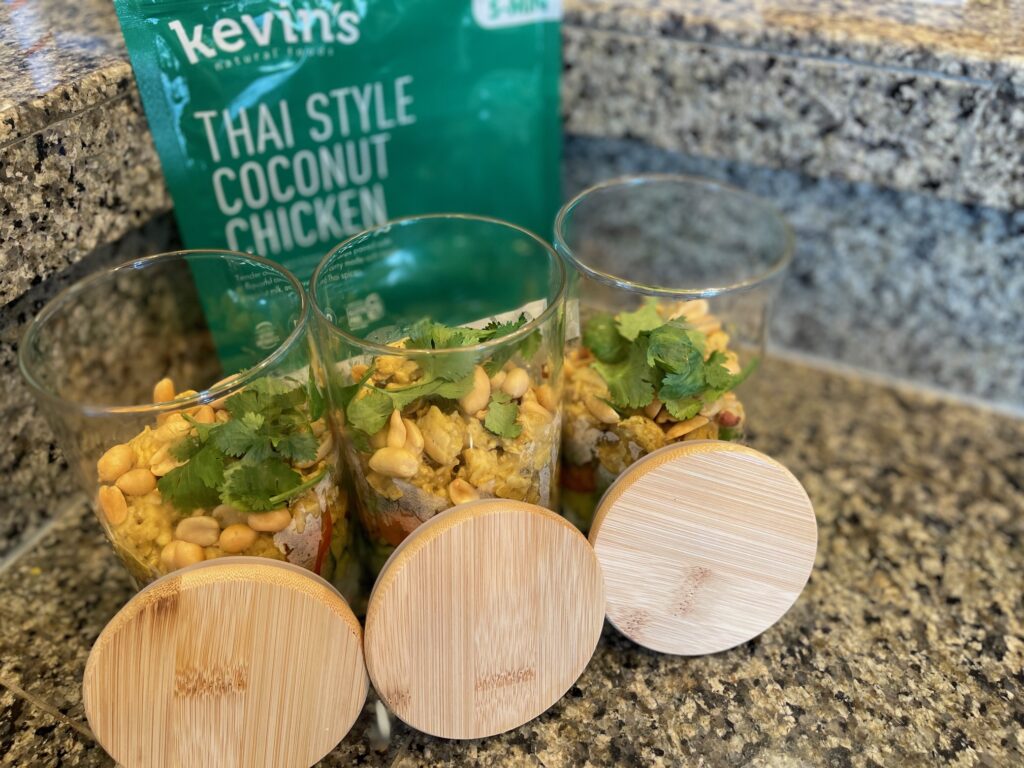 This recipe is exactly what I am looking for currently with a little baby and wanting to start the New Year off with healthy eating that is also …READY TO GO!
I can't tell you how many times I am not prepared when dinner comes around so this solves all my problems. Plus HEALTHY, GLUTEN FREE THAI ?!– I AM IN!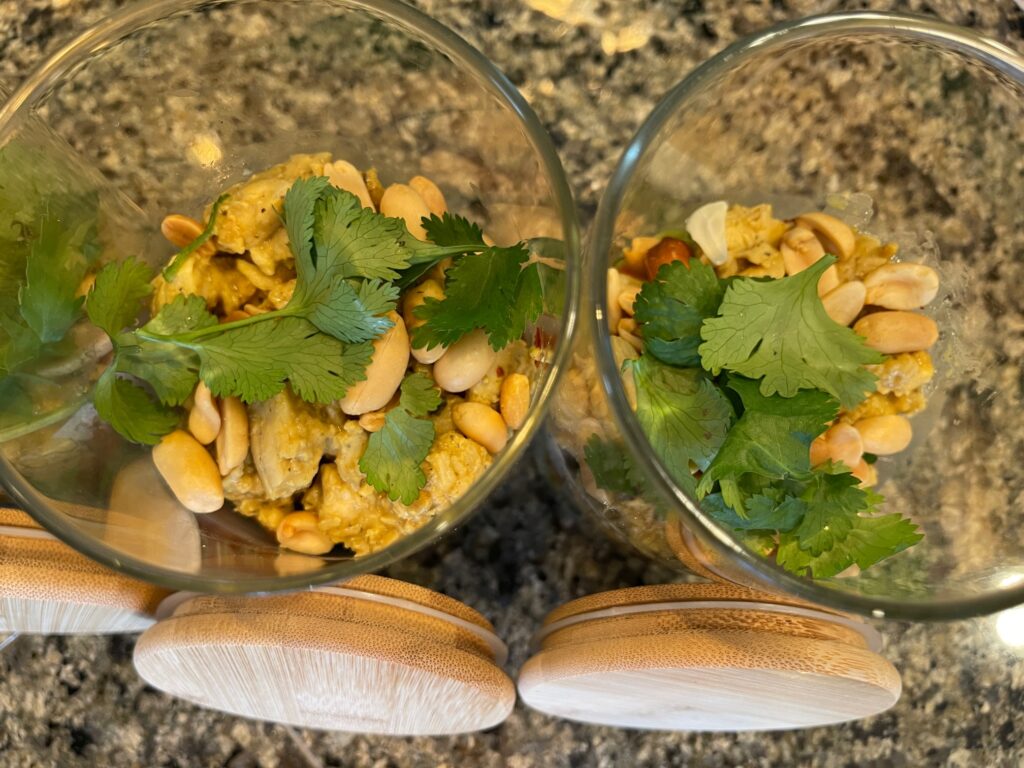 A main reason this meal is so easy is that I lean on using Kevin's Natural Foods (as many of my clients know) and I truly adore this brand.You will find exactly what you're looking for as they have so many flavors and they are all gluten free, refined sugar free, soy free and use only meat free of any hormones or antibiotics. I recently received free samples of Kevin's for a blog recipe contest and so my creative juices were flowing.
Just drop in a bowl and voila!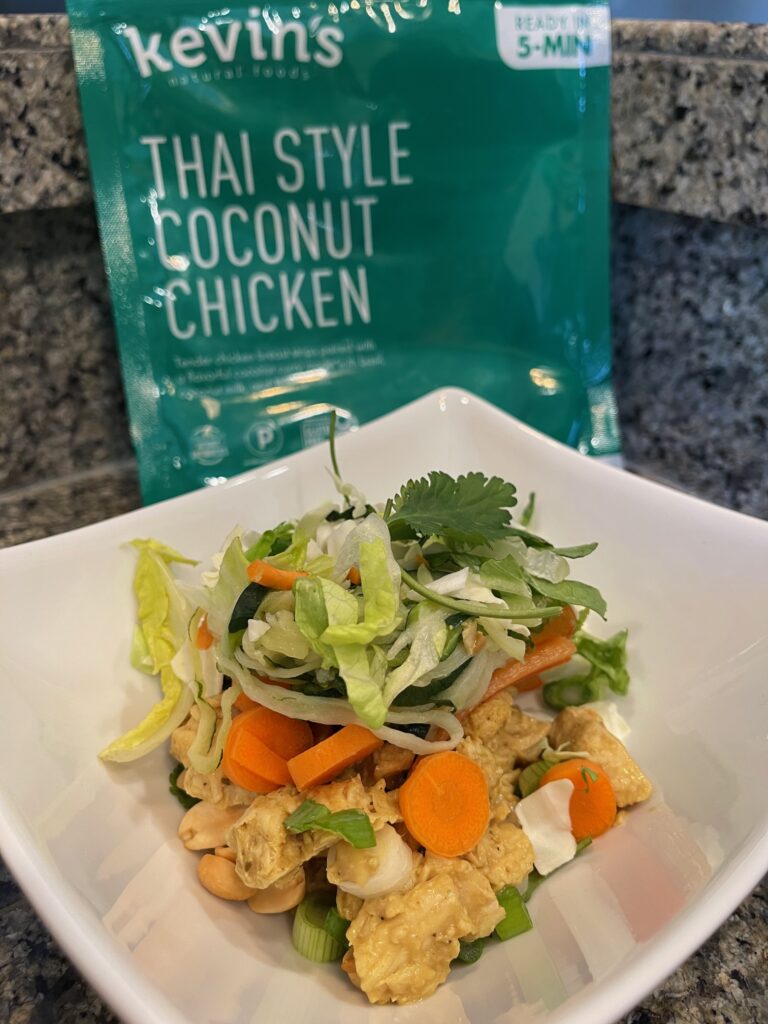 Where Thai dishes can be more complex is getting that delicious sauce flavor and that's where Kevin's makes our life so easy. This sauce is SO GOOD and I can't wait for you to try this recipe. You can also enjoy this recipe warm or cold.
NOTES: you can double the recipe if you are looking for more protein and if you like heat, add some crushed red pepper flakes to the zoodles. Keep Paleo by simply swapping almonds or cashews instead of peanuts.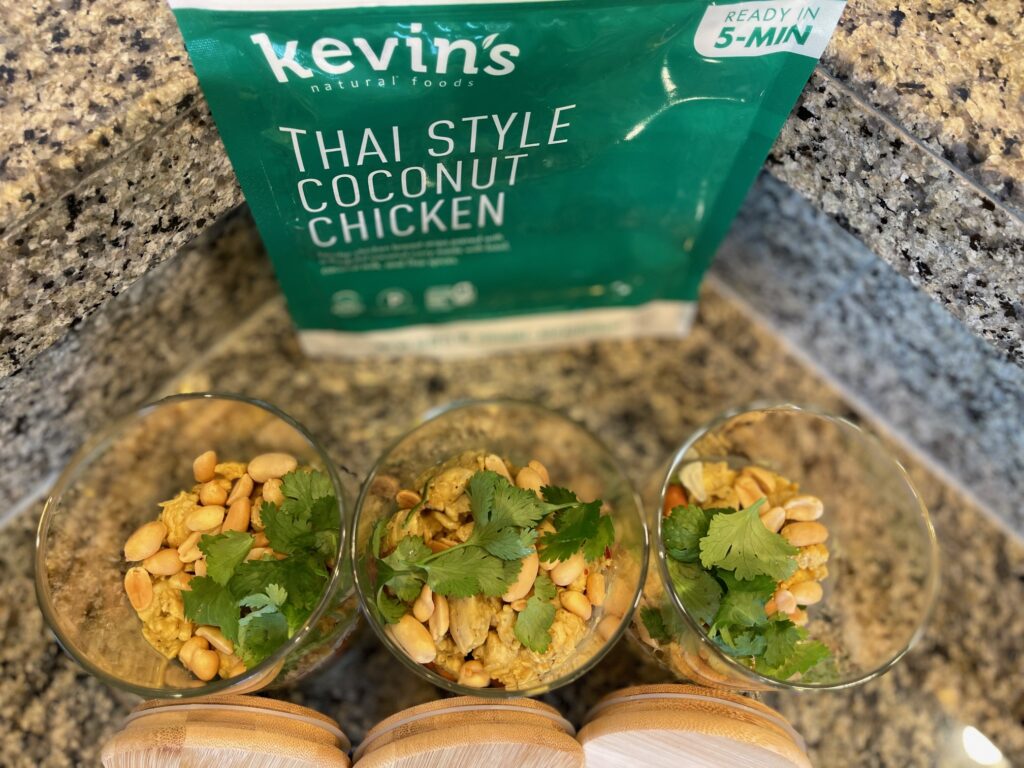 GLUTEN FREE THAI- STYLE COCONUT CHICKEN ZUCCHINI JAR MEALS
Diet: Gluten Free, Paleo, Protein Recipe
Prep time: 5 mins
Cook Time: 5 mins
Total Time: 10 mins
Serves 2-4
Ingredients:
1-2 tablespoons olive oil or avocado oil (or cooking oil of choice)

4 cups of a cabbage mix

2 pkg frozen zucchini noodles, cooked

1 red bell pepper, sliced thinly

½ cup carrots, chopped

4 chives, chopped

⅓ cup peanuts, use almonds or cashews for easy Paleo swap

4 mason jars
Directions:
Prepare the chicken for cooking by gentle massaging and open the pouch letting out all the natural juices.

Next cook your zucchini noodles. This can be done in the microwave if you are not making your own. I like to add salt and pepper and if you like some extra heat, now also add crushed red pepper flakes. Set aside in a bowl, let cool.
Next in a medium size saucepan over medium- high heat. Add 1 tablespoon of oil and prepare Kevin's Thai Style Coconut Chicken. I like to break up the chicken with a wooden spoon. Next add the delicious coconut curry sauce and cook just a few minutes until well combined.

While the chicken mixture cools, prepare the veggies. Slice and chop all the veggies and set aside.

Now start to make your pre-made healthy meals for the jars. Place in each jar: the cabbage at the bottom, next the "zoodles," red bell pepper, carrots, chicken mixture, chives, and a sprinkle of peanuts. Place on the lid and your work is done my friend. Place in the fridge for up to 4-5 days and enjoy! Enjoy warm or cool.
Make sure you try all of Kevin's Natural Foods and they are available in so many locations now it's hard to miss them! They have "hacked healthy" so follow along with them here: Facebook, Instagram and Pinterest.
EAT WELL. STAY FIT. FEEL GREAT!