Craving HEALTHY MEXICAN and with a TWIST? That's right …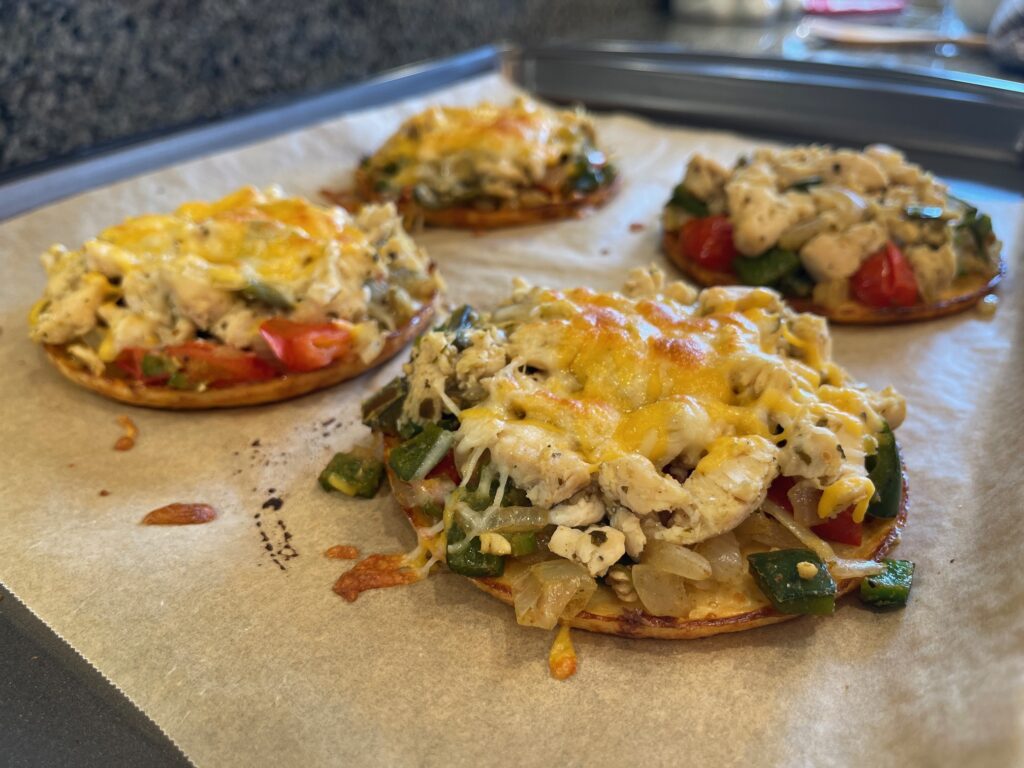 I hope you are ready for a super healthy, mega delicious and incredibly fast and easy meal. 
MEXICAN PIZZA MEETS NACHOS
I thought so and you have to try this insanely delicious meal that takes less than 15 minutes. Where was this meal when I was pregnant? 🙂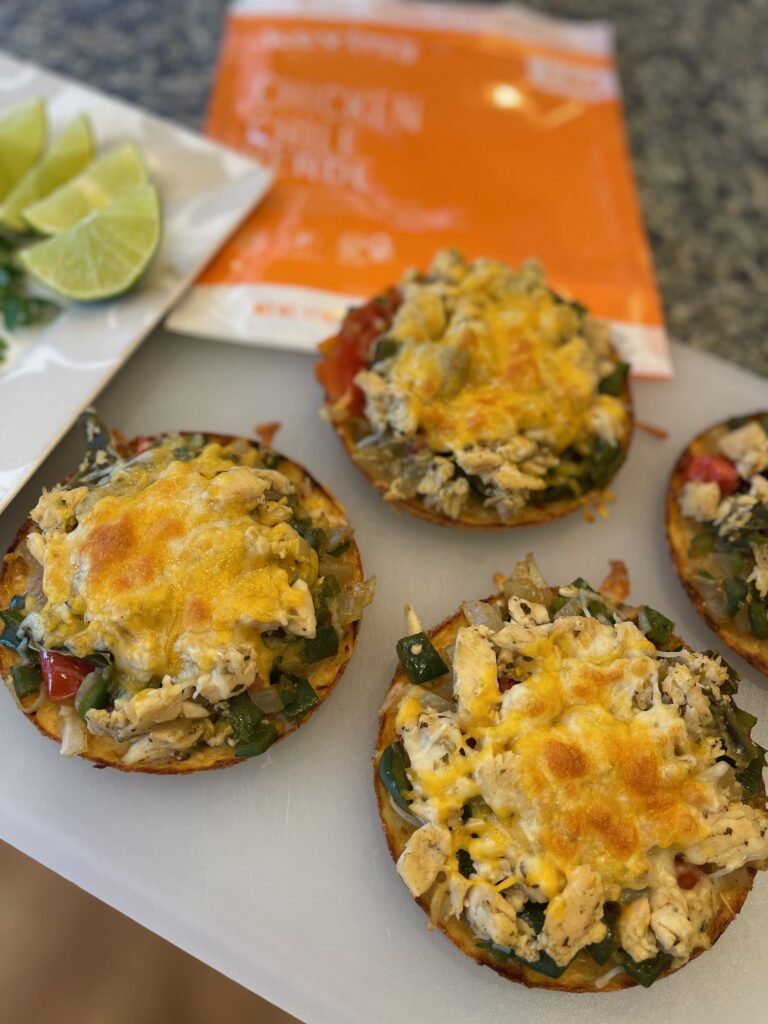 A huge reason this meal is so fabulous is that I'm using Kevin's Natural Foods. I recently received free samples of Kevin's for a blog recipe contest. I've actually been a fan of Kevin's for over a year and recommend them to many of my clients so I was SO thrilled for this opportunity. I have tried all of Kevin's flavors now and honestly find each one so yummy. Plus they all only take 5 minutes to make! You will find exactly what you're looking for as they have so many flavors and they are all gluten free, refined sugar free, soy free and use only meat free of any hormones or antibiotics. 
This is perfect for your next Mexican craving and is SO HEALTHY! Add any of your favorite toppings and you'll soon want this on repeat (like our house does). It is so SATISFYING. 
NOTES: Keep paleo by using paleo pizza crust OR buy extra poblano peppers, scoop them out and put the filling in them like "stuffed" poblano pizza! Also you can make dairy free just by omitting the cheese. 
HOPE YOU LIKE FLAVOR
PRO TIP: If you DON'T like spicy (or any heat) you can omit the jalapeños but if you DO like heat, keep the seeds and membranes intact. I'm on team spicy but just make sure you wash your hands when handling any hot pepper and don't rub your eye. Yes, talking from experience. Also another HUGE tip is place the onion in a bowl of water for 15 minutes and you will have way less watery eyes. You can thank me later for both of these tips!
LOW CARB KETO-FRIENDLY CHICKEN CHILE VERDE PIZZAS 
Diet: Keto- Friendly, Gluten Free, Paleo, Low Carb, Protein Recipe

Prep Time: 5-7 mins
Cook Time: 5-7 mins
Total Time: 15 mins
Serves 2
INGREDIENTS: 
3 tablespoons olive oil (or oil of choice), divided

1 large onion, peeled and chopped

4-5 cloves garlic, peeled and minced

2-3 poblano peppers, seeded and chopped (more if using as the base)

1 jalapeños pepper, seeded and chopped – (can be optional if you don't prefer heat)

½ cup cherry or grape tomatoes, quartered

Salt and pepper (a few grinds each)

1 tablespoon cumin

1 cup shredded cheese, divided (optional) – can skip if sticking to Paleo

4 cauliflower wraps – or can use any tortilla of choice

Toppings: avocado, guacamole, sour cream, cilantro, salsa, fresh lime, a drizzle of hot sauce or taco sauce, anything you fancy!
DIRECTIONS:
In a medium saucepan over low-medium heat, drizzle 2 tbs of olive oil. Next add in the onion, garlic, poblano peppers, jalapeño peppers if using and tomatoes. Add salt, pepper and cumin. Sauté until well combined and place in a bowl.

In the same pan add 1 tbs of olive oil and cook Kevin's Chicken Chile Verde. Set aside.

Next start the layering. Place a cauliflower wrap or tortilla or hollowed out poblano pepper on a baking sheet over parchment paper. Spread evenly the veggie mixture, then add Kevin's chicken, then top with a sprinkle of cheese if using.

Broil for 5-6 mins. 

Serve with all your favorite toppings. Enjoy! 
Make sure you try all of Kevin's Natural Foods and they are available in so many locations now it's hard to miss them! They have "hacked healthy" so follow along with them here: Facebook, Instagram and Pinterest. 
EAT WELL. STAY FIT. FEEL GREAT!