Make this for the one you love (or just YOU!). It could not be any easier and it is still a sweet, smart way to indulge.  Not only does it seem like you spent all day making them, but it looks so fancy and it is hardly any work.  This is one of my favorite treats (Mark too) and I hope you enjoy it.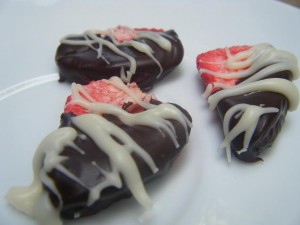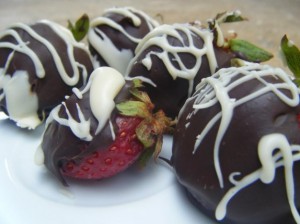 So what is this "Moni's 2 ways?" Simple.  1: One version: is with Organic Strawberries and 2: the other version: is with Dried Strawberries (these you can find at Trader Joe's I know for certain.)  I love them both, so I make them both.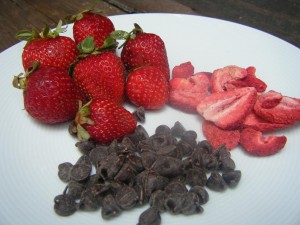 NOTE: If you want to get all fancy with it, like I did, melt some white chocolate and put aside. From here you can put the melted, yet slightly cooled, white chocolate into a zip-loc baggie and press it into the corner. Snip the corner very small.  Now you have a professional piping  machine. 😉
Great for Valentine's Day and here are all my Valentine's Day Recipes that you will love too.  Do not forget about my all my Cookies and Brownie recipes as well.  Many of them are lightened up, so ENJOY!
If you are after a unique twist…Perhaps also try my Dark Chocolate-Dipped Dried Orange Treat and My Moni Chocolate-Dipped Fig Kisses!  Both are one-of-a-kind and everyone loves them. I have brought some to my clients to share too, so it is "Trainer Approved!" ALL of these recipes are!