Easy, Delicious, and Classic. No health tweaks on this. Makes a great dessert anytime and I love making these on Valentine's Day (which I happen to do every V-Day.)  I am so clever because I serve these in cupcake wrappers, so you get your own individual gooey-goodness every time and hey-portion control too!  When I say I bake with love, this recipe is exactly what I mean…if you get these from me, you are one loved individual.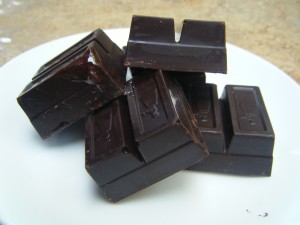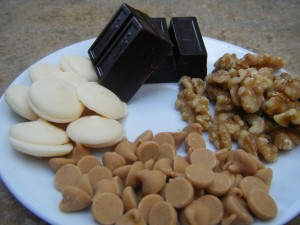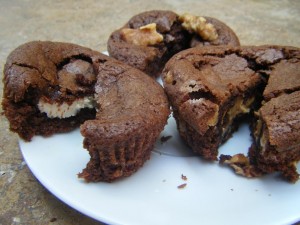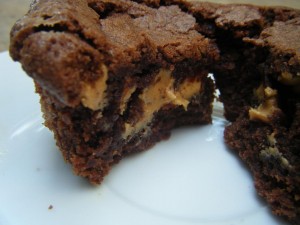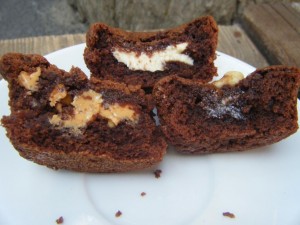 I make these in 4 varieties. That might sound complicated, but it is not.  That is how great this recipe is, as you can make a classic brownie recipe or add some tasty treats in the middle if you want even more.
There is the plain version, the walnut version, the white chocolate center version, and the peanut butter chip center version.  All super easy to take on, it is just a matter of what you are after. I will sometimes just make all 4 in a batch for variety.
NOTE: For the record, I believe we should eat the foods we truly love (that may not be the healthiest) in moderation.  I do not believe in deprivation.  So this is one of those recipes for me…  made to enjoy and indulge!  You can go ahead and freeze some of these or give some away. Enjoy~
Check out my other Brownie Recipes too, you will love them all!
---
Servings
12 Brownie Cupcakes
Ingredients
2 1/2 ounces unsweetened chocolate, coarsely chopped-use good quality!
3/4 cup flour
1/2 tsp baking powder
1/4 tsp salt
7 tbs unsalted butter, at room temperature
1 1/4 cups sugar
2 large eggs, beaten
1 1/4 tsp pure vanilla extract
white chocolate chips, peanut butter chips, 1/2 cup walnuts, all optional (see below)
FILLINGS: (optional)-You will need the following if you add the amazing-ness for the center- I add white chocolate baking chips (seperately) and peanut butter baking chips (seperately) in the center of the chosen brownie. Then add the remaining batter to go cover. I also add walnuts to 1/3 of the batter as well-so I get all 3 types of brownies…(brilliant I know.) Remember, you can also make them just "plain" too. Makes 12- so you can have 3 each, of 4 different varieties!
Directions
Preheat oven to 350 F. Line a muffin pan with 12 cupcake liners.
Melt chocolate, when melted, set aside to cool.
In a mixing bowl, sift together flour, baking powder, and salt.
In another mixing bowl, combine butter and sugar. Using a hand held mixer beat until light and fluffy. Crack the eggs into a small bowl and then add them into the mixture one at a time, beating well after each egg. Add the cooled chocolate and blend thoroughly until well combined. Add the sifted dry ingredients a little at a time so they don't fly up; beat at a med. speed until smooth. Stir in vanilla extract (and walnuts if using.)
Divide batter among prepared muffin cups.  If however you want to try my special fillings, only add a little batter to each tin, then fill with white chocolate chips in some and peanut butter chips in some and then spread more brownie batter over the top until they are hidden.  Also, you can add walnuts in some too. Bake for about 20-22 mins or until toothpick comes out clean. ENJOY!