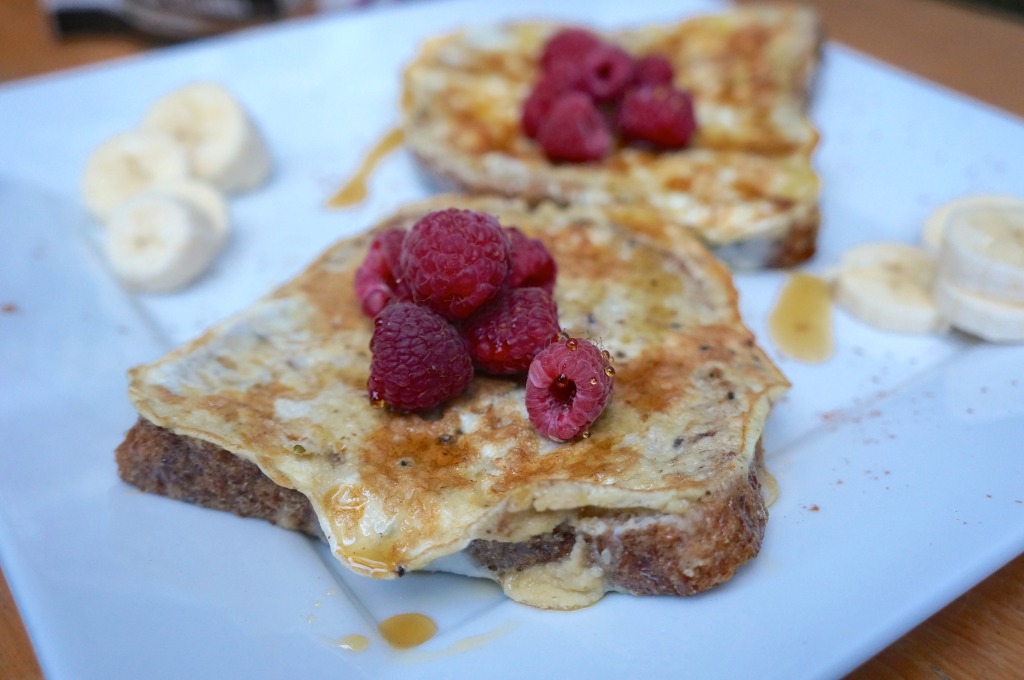 I love breakfast and I lovvvve french toast. I like hearty meals that will keep me full, taste amazing but also pack in lots of protein and nutrition. That is why I have mastered healthy meals because I refuse to NOT eat what my heart desires!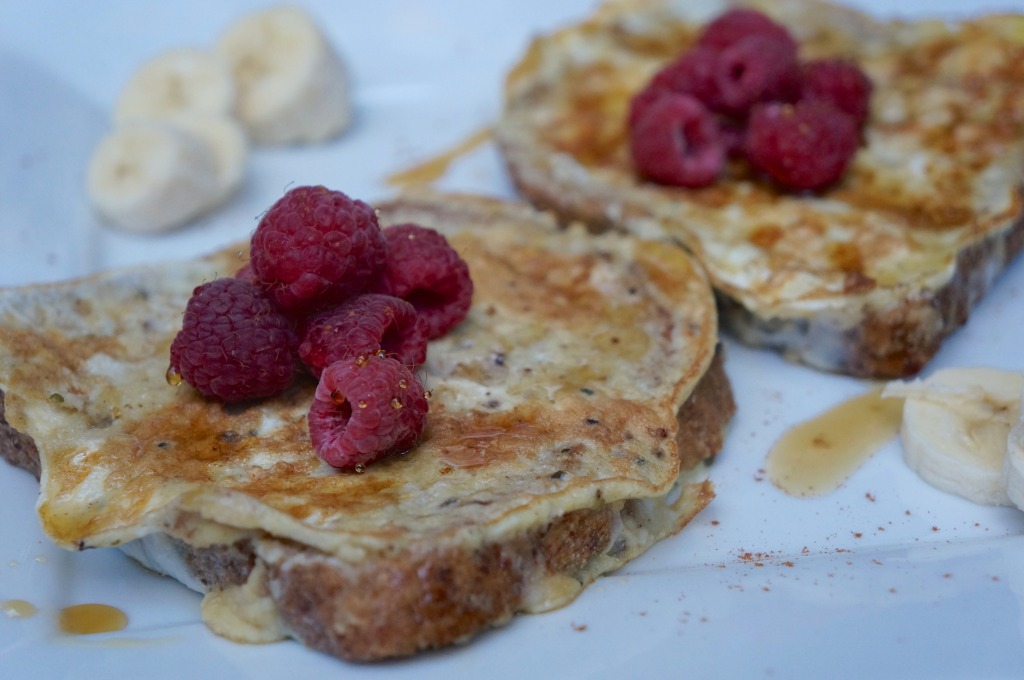 Enter Easy and Healthy Protein French Toast with Raspberries and Banana. Don't forget the drizzle of raw honey or syrup!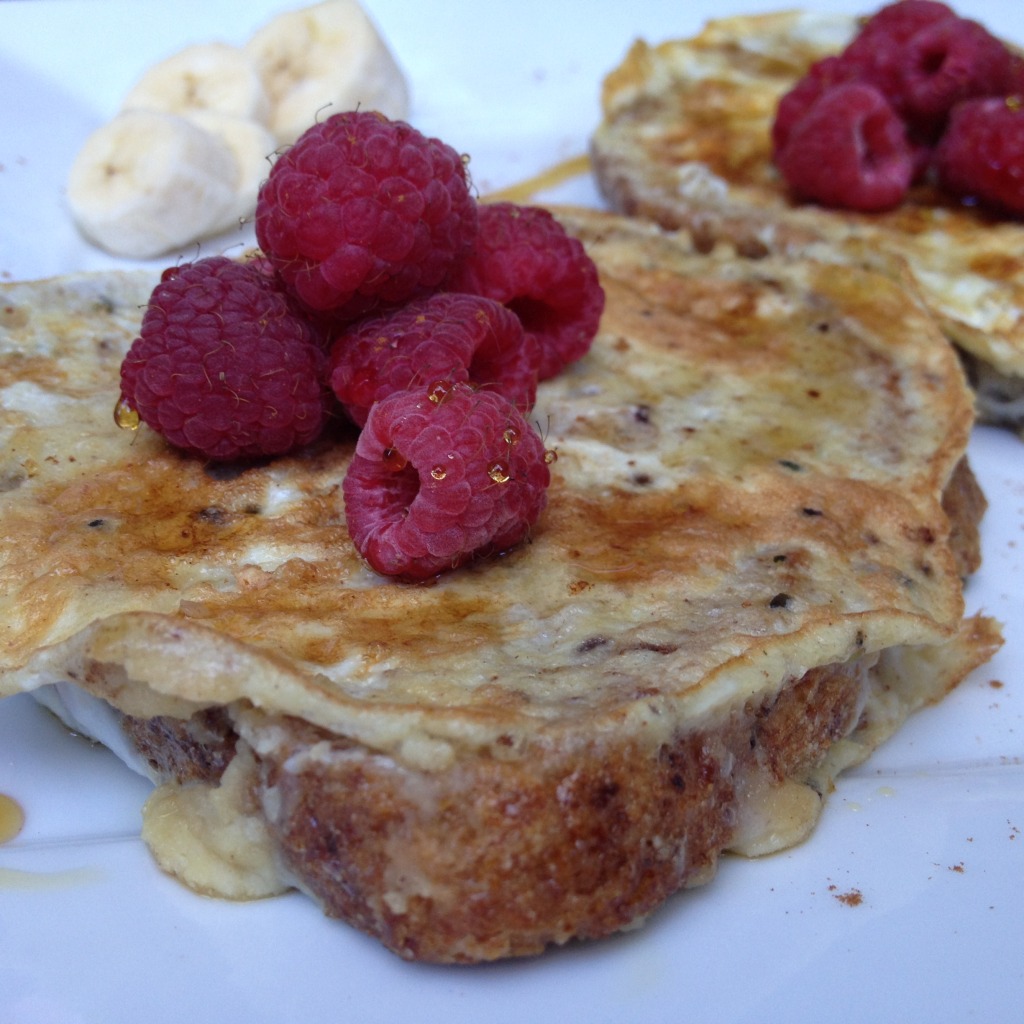 As you know I love pancakes and french toast (like my and my Healthy Cinnamon and Raisin French Toast and my 4 Ingredient Pancakes just to name a few!) .
This recipe does not get any easier. Can take you less then 10 minutes. A great way to indulge without scarfing taste or unwanted fat and calories. 
Depending on what bread you use: Cals: 223 Fat:5.6 g Protein:14.5 Carbs: 17.6
Enjoy!
Follow Moni to connect on Face Book, Twitter, Pinterest, and Instagram (-to get a look of my everyday eats!)
EAT WELL. STAY FIT. FEEL GREAT.
xx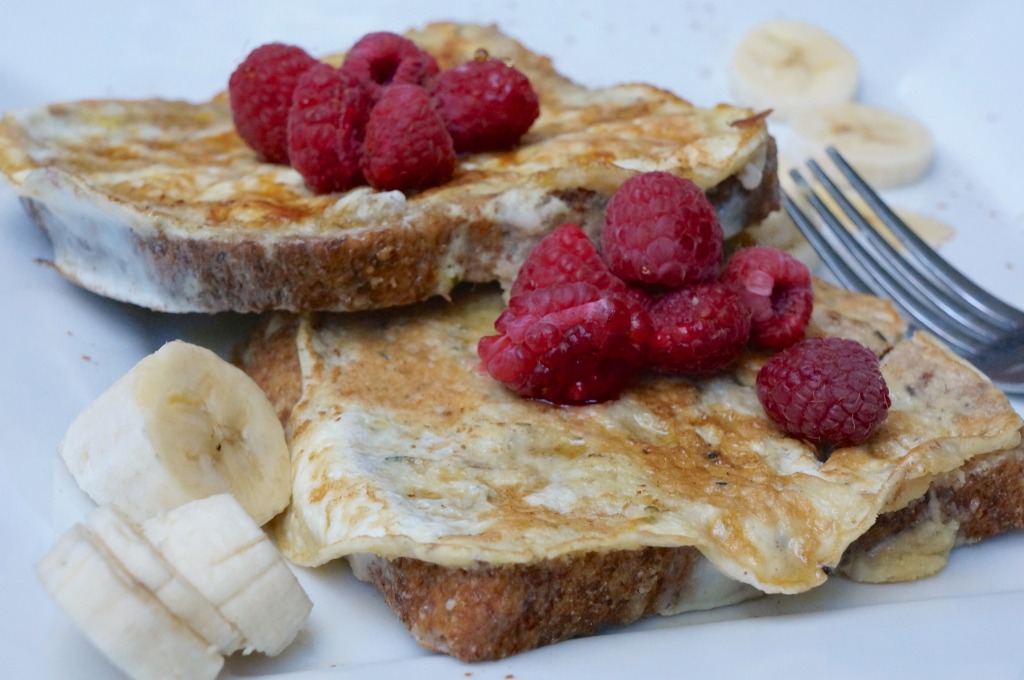 Protein Vanilla French Toast with Raspberries
Recipe Type
:
Breakfast, French Toast, Protein Treat
Author:
Prep time:
Cook time:
Total time:
A healthy breakfast so you can enjoy the french toast that we all love so much. Packed with flavor and protein. Great for all!
Ingredients
2-3 slices of Ezekiel or Paleo bread, or bread of choice
2 eggs, lightly beaten
2-4 tbs of almond milk, see how thick the mixture gets
2 tbs coconut flour, or flour of choice
1 scoop of your favorite protein powder
1/2 tsp of pure vanilla extract
a grind or two of Himalayan sea salt, or just salt
a dash of cinnamon
Serve with fresh raspberries and banana slices (or fruit of choice)
Drizzle with raw honey or syrup
Optional Toppings- yogurt or your favorite nut butter
Instructions
In a med bowl mix the dry ingredients; protein powder, salt, cinnamon, and coconut flour.
Next add in the 2 eggs, the almond milk (see how much you need, start with 2 tbs), and vanilla extract. Whisk well until most clumps are gone. (You will have a few).
Place this mixture in a shallow bowl. Add one slice at a time. Let the bread soak up all the mixture. You can prick your fork a few times to let is soak in more. Flip and repeat.
Heat a pan over med heat. I use coconut oil, (or oil of choice) and when warmed; add the slice. Let cook for about 1-2 mins each side. NOTE: because of the protein powder it can burn easier than you would think – so watch it.
Now repeat the process. Add the next slice of bread in the egg mixture. Coat both sides. Add more oil to the pan if needed and cook 1-2 mins each side. Remember to double this if you are making more than on serving.
Place on a plate. Add your fruit of choice. I use fresh raspberries and sliced bananas. Sprinkle with a dust of cinnamon and a drizzle maple syrup or honey over. Can also use a BIG dollop of your favorite yogurt or nut butter. ENJOY!
Notes
This recipe can make 2-3 slices. If you are feeding many – just double everything.[br]You can use all egg whites but I use 2 eggs – good flavor, texture, and where all the nutrients are.[br]Can use any protein powder you want. I use vanilla flavor but chocolate could work.[br]I LOVE Himalayan sea salt (brings out the flavor BIG time) but if you do not have this you can absolutely use salt.[br]Use any fruit you like. You could even add say blueberries to the egg mixture too so they warm up in the pan.[br]Another topping idea is that you can could even add a big dollop of yogurt or your favorite nut butter too.