Ooey, Gooey, Crunchy… Silky Smooth S'mores Smoothie. I don't do deprivation in my house and I was craving some kind of S'mores Treat. You just can't deny how fun and unique a S'mores is. I created this recipe last winter but thought Summer would be the perfect time to share it. I created my way to enjoy a very decadent way to get that classic S'mores flavor minus the usual crap that comes along with it.
For example, recently Dairy Queen came out with a "S'mores Blizzard." As fun as that sounds… SO SCARY – listen up! I kid you not (I looked it up) – a Large size comes in as the following:
DAIRY QUEEN'S S'MORES BLIZZARD: CALS- 1,420 FAT- 68 g CARBS- 184 g. Ummm, let me think about that… Well, absolutely not! No Thanks. AT ALL. I knew I could DO SO MUCH better than that.
Check out my Nutritional Info (talk about saving some calories, fat, and sugar!):
MONI'S S'MORES PROTEIN SMOOTHIE: Cals 316, Fat 9.2 g Sat. Fat 2.9 g, Carbs 42 g, Protein 19.5 g Cholesterol 0, Sodium 295.5 g, and Fiber 5.7 g.
As you see, much lighter and to be honest… even more decadent. Plus you won't feel sick afterwards! If you follow my tips below you will see how.
So get ready to LOVE this "light" Silky Smooth S'mores Smoothie. (Say it with me 10 times fast). You can also enjoy the outdoors in the comfort of your own home (while staying warm!) too. As this is great for the cooler seasons.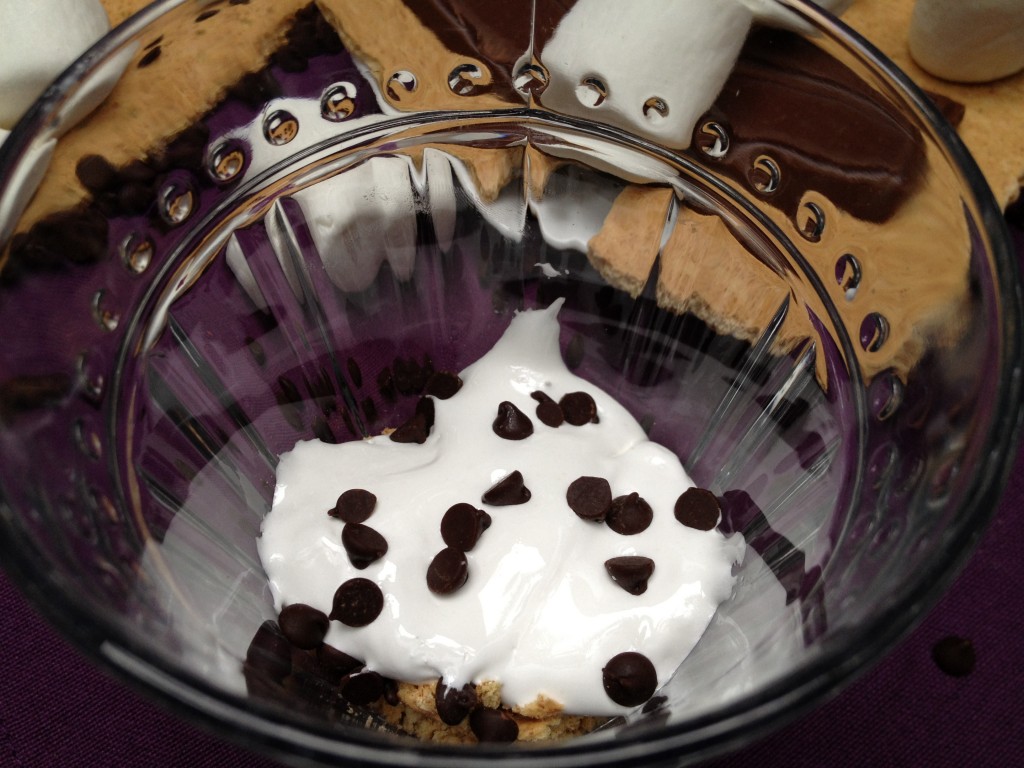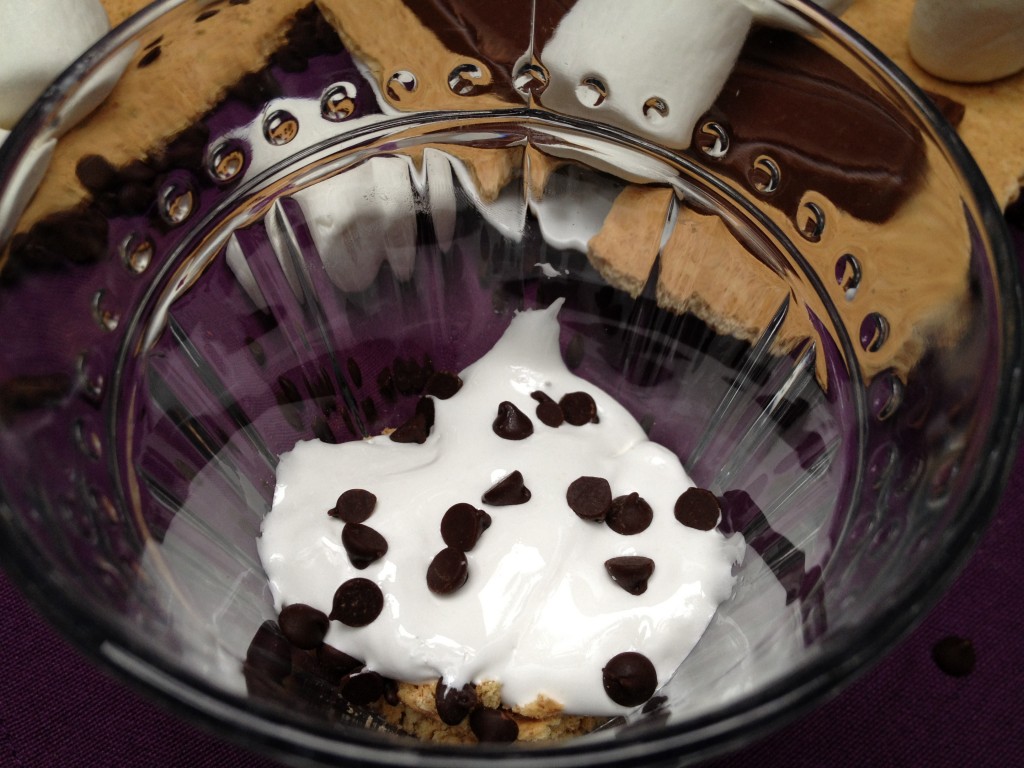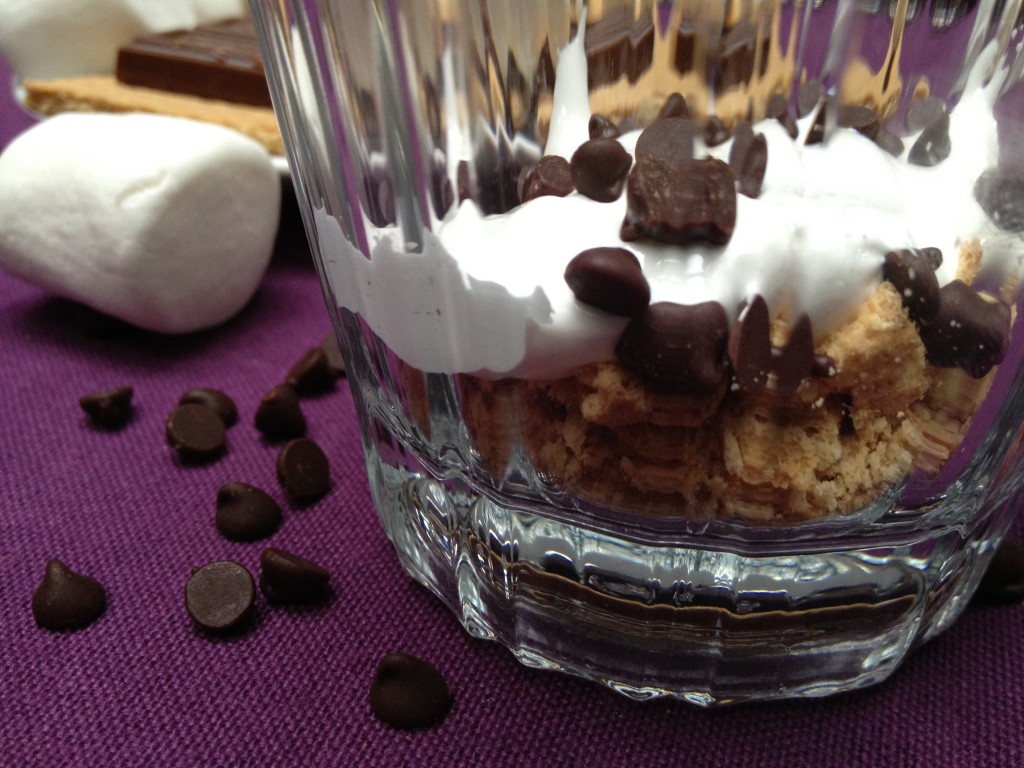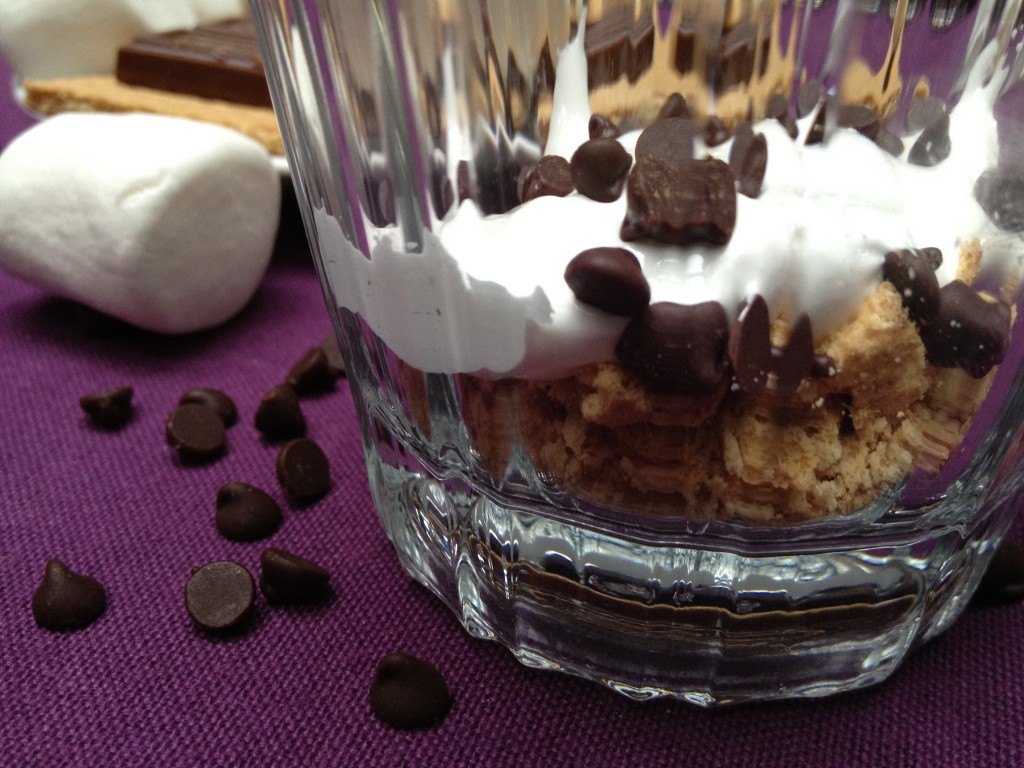 I love this smoothie because it is so delicious, full of protein, and is SO much lighter than any typical S'mores treat – plus there is a surprise at the bottom of the glass.  You see, when you get to the bottom of the glass you will find a S'mores surprise with graham crackers, marshmallow fluff, and mini chocolate chips. It is the smoothie you never want to end, trust me.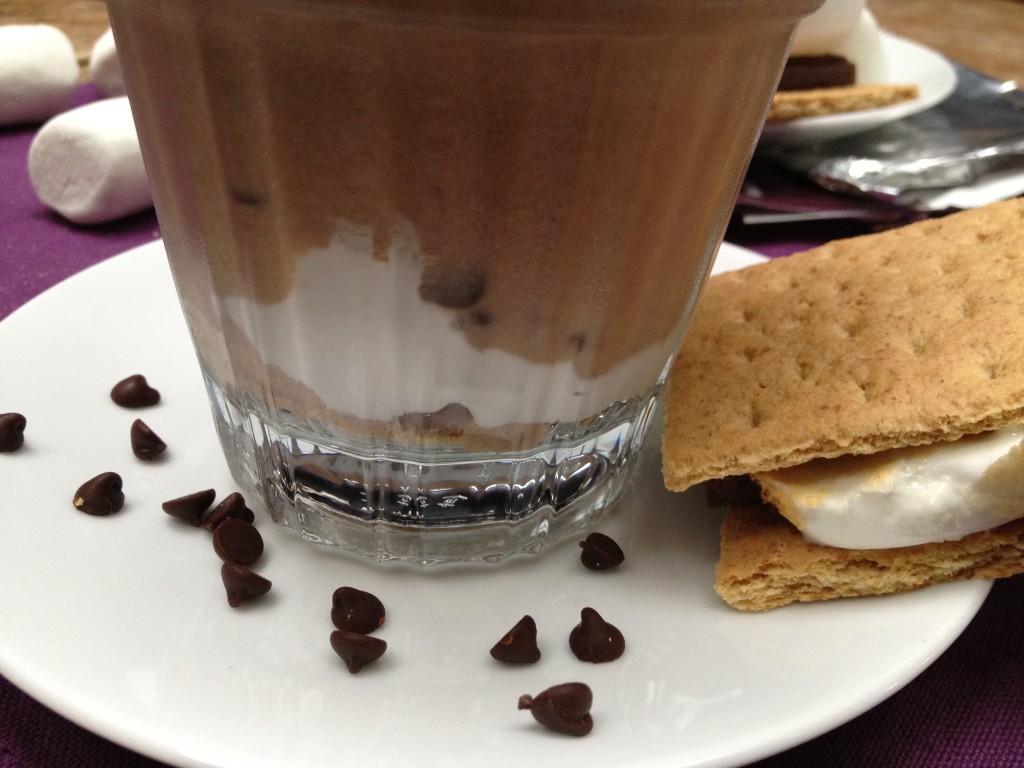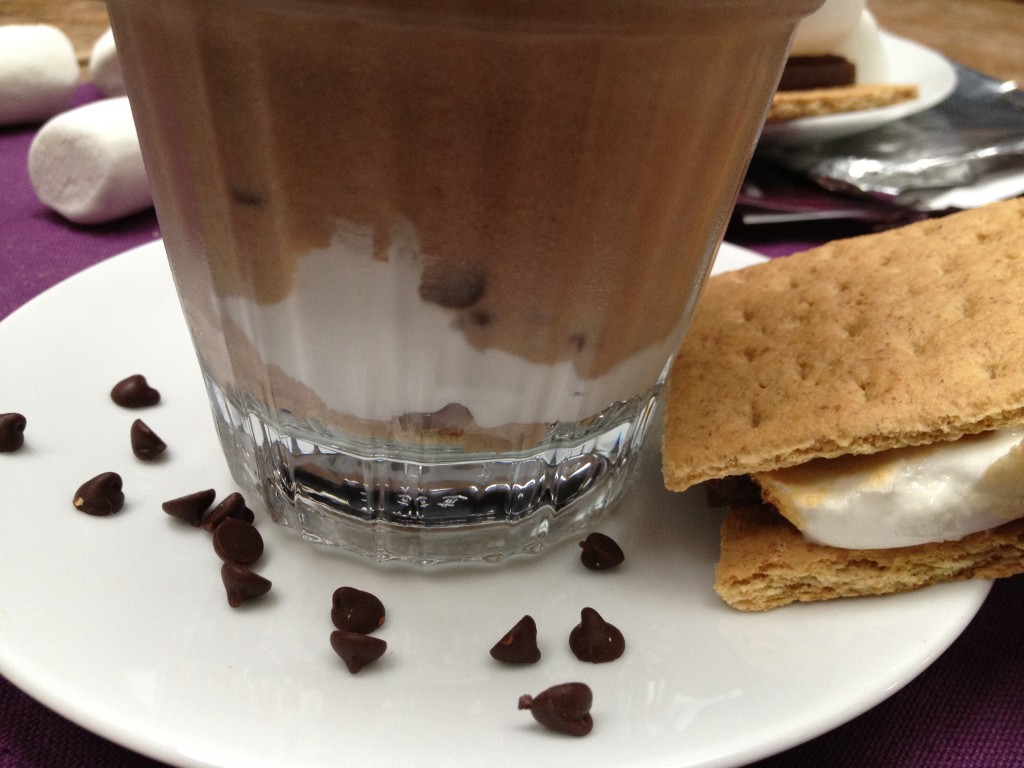 Kids love it, Great for friends and family, any holiday, and this a great way to induldge without over doing it.
YES, it does taste just like a S'mores and is much lower in sugar, fat, and calories. The best part is though…. it just tastes so so so amazing!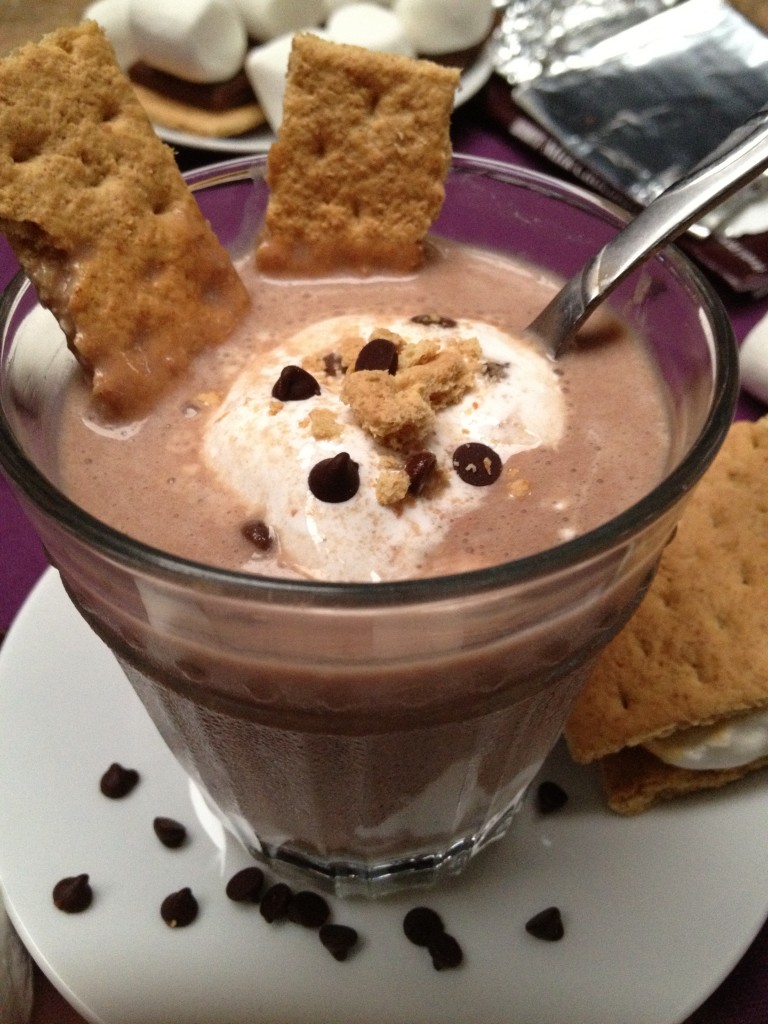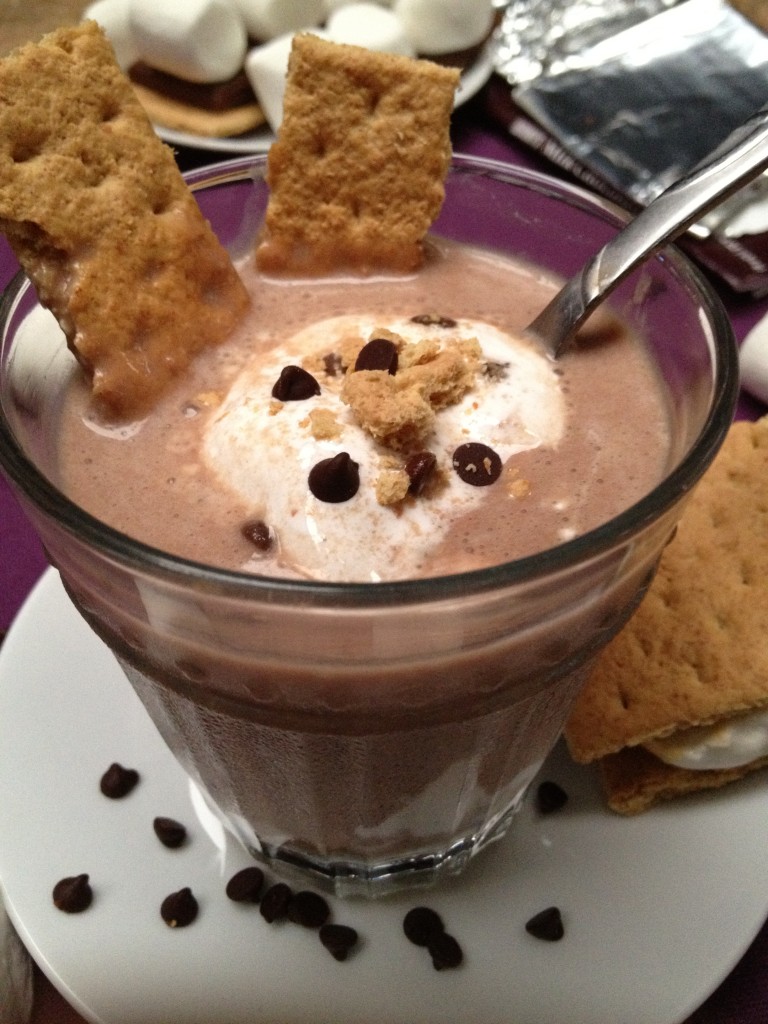 I am very excited. How else do I get it this light?
Well, the key is a frozen banana (this thickens and flavors it right up) – instead of using scoops of full fat ice cream.

Also by using a scoop of a chocolate protein powder (or you can also add a tablespoon or two of cocoa powder) – this being instead of a chocolate syrup that is loaded with sugar, will also keep this figure friendly.

I also use mini chocolate chips – rather than normal size.
Plus cocoa powder is loaded with antioxidants and depending on what chocolate protein powder you use- many protein powders are also full of nutrients and good for you ingredient's. See a winner of a recipe all around.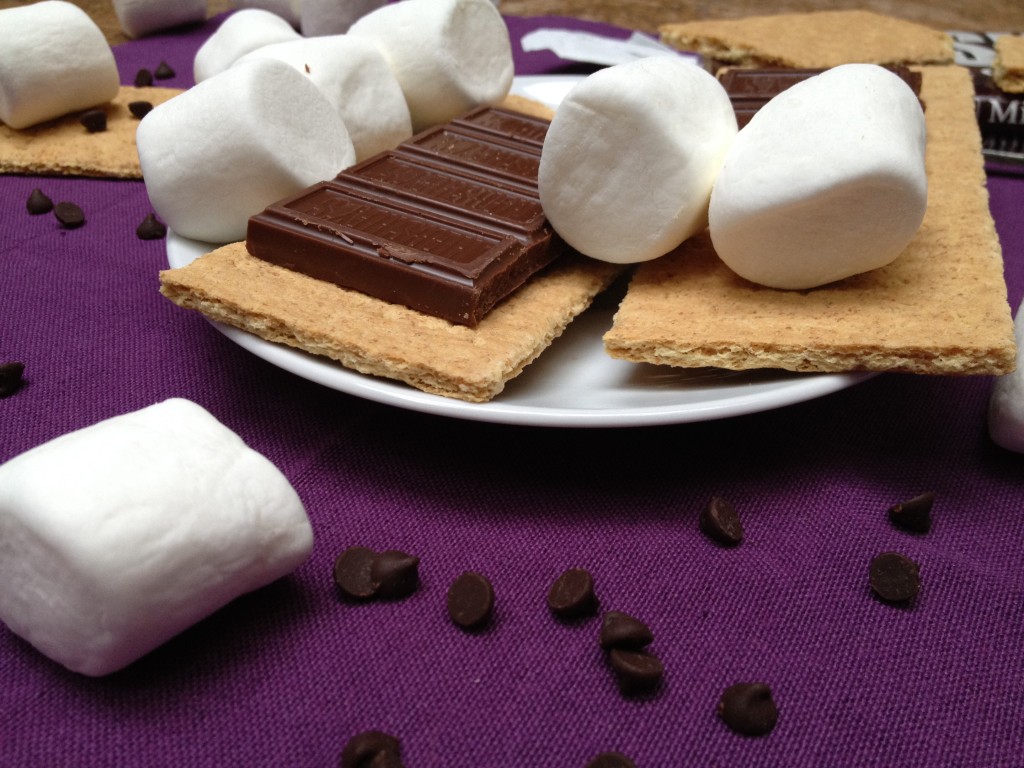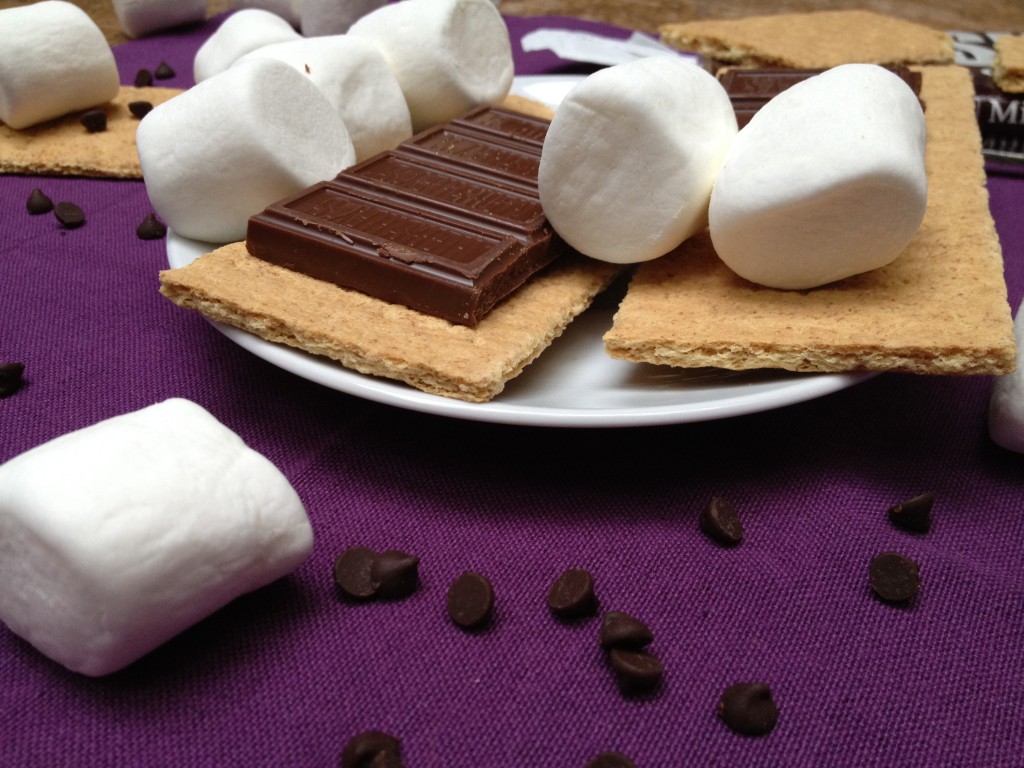 NOTES:
As I mentioned you can turn this into a fun smoothie for the family to enjoy inside say during a game night or movie night.
Or simply make this a treat or a fun pre-or post workout smoothie using a scoop of your favorite chocolate protein powder.
Yet, another idea… is to make this a healthier adult beverage by simply adding a shot of Baileys or a Chocolate Liquor. So you just can't get bored with this smoothie.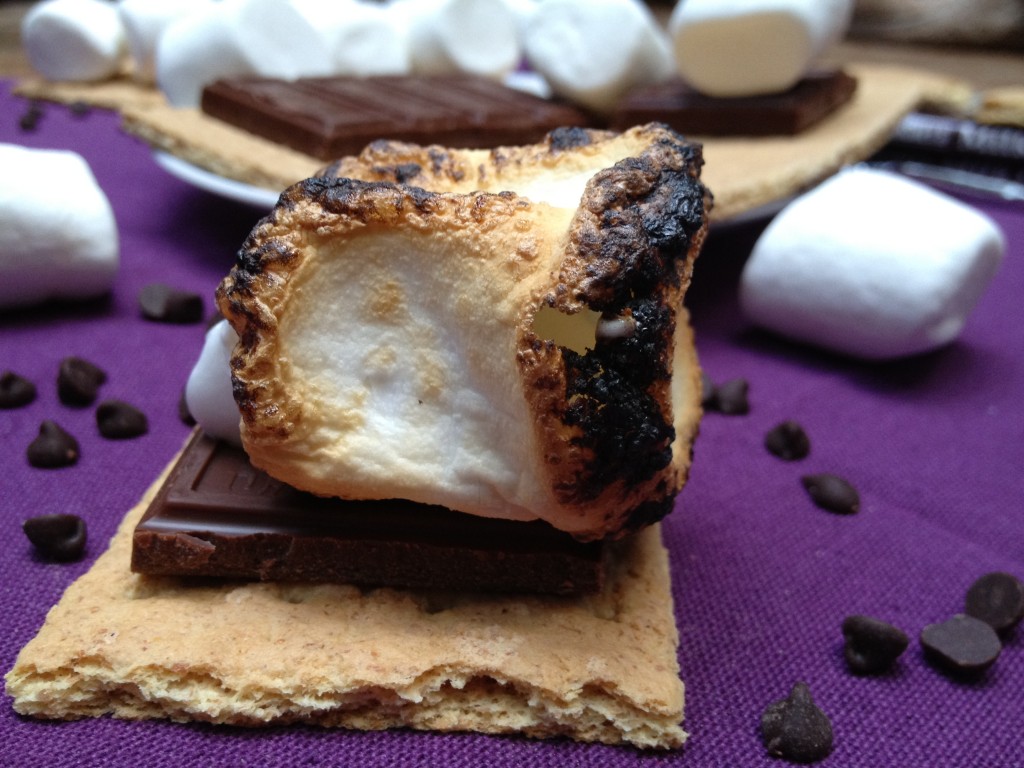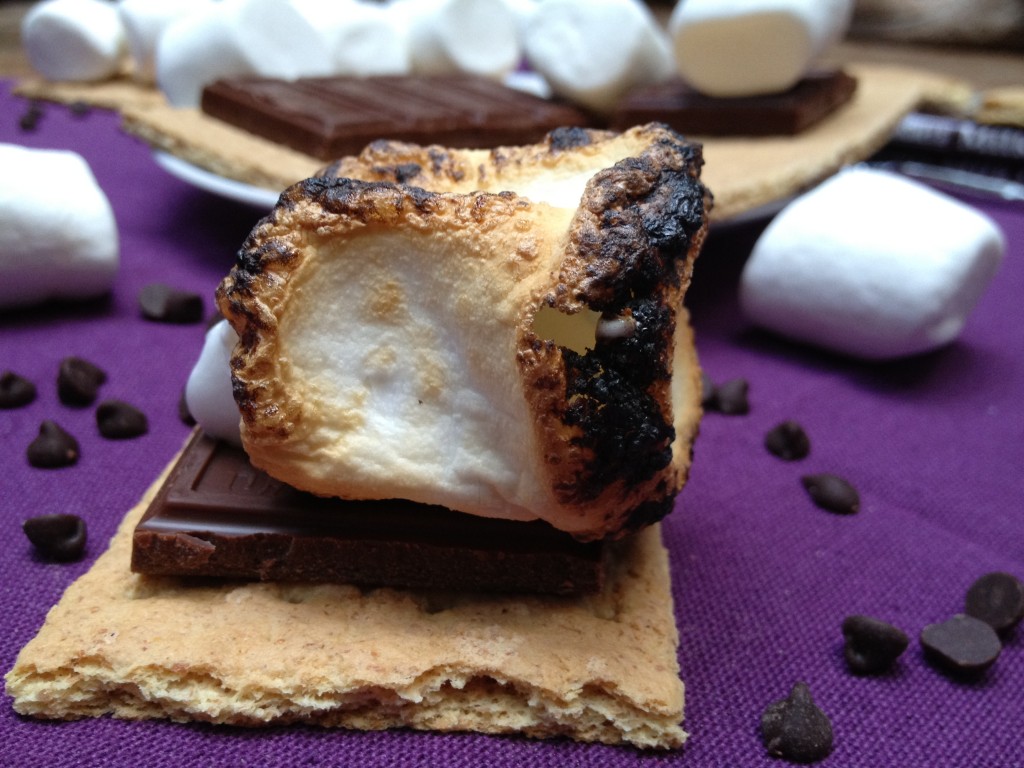 What I love though is to make an additional S'mores from my outside gas fire (as seen above) and then enjoy this smoothie with that. Oh heck yes. Like I said, we don't believe in deprivation in my house. I always eat what I want in moderation and I think we all should have this option.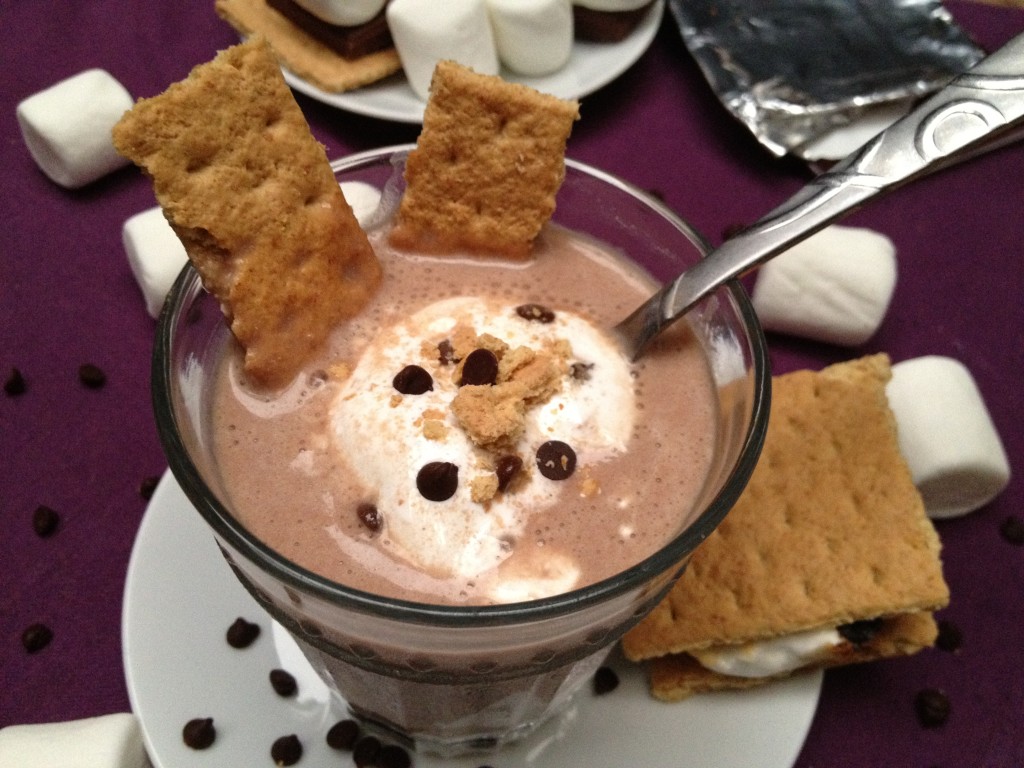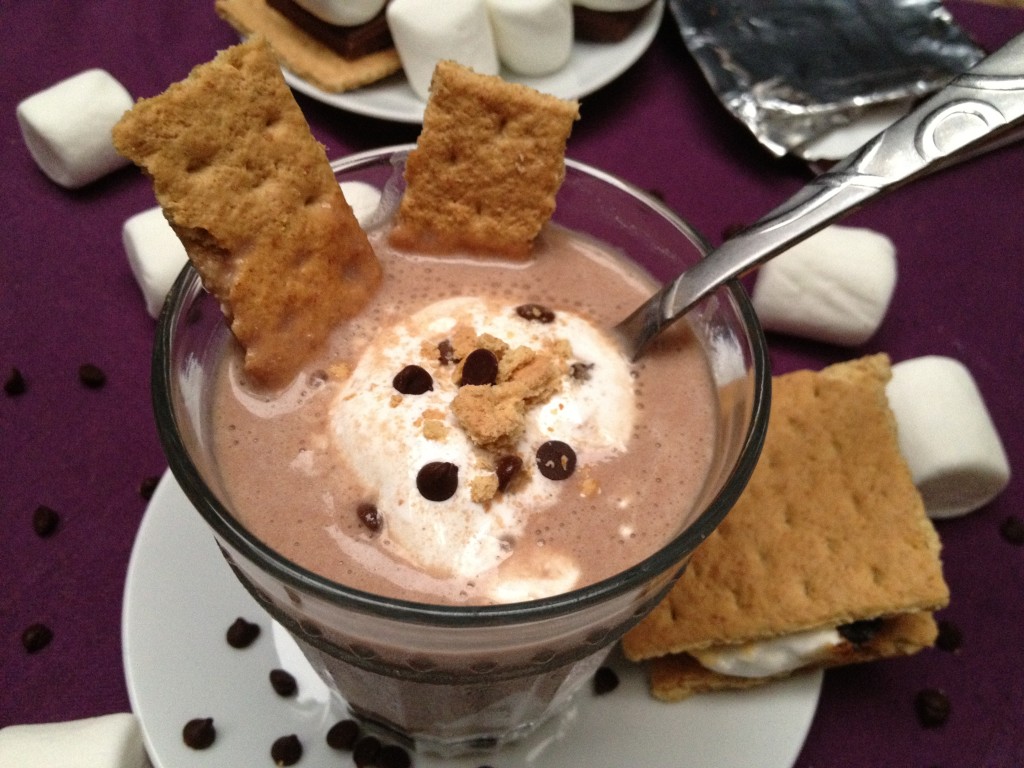 There is no way you can mess this up. So enjoy the outdoors in your own home and save some calories while you are at it!
Check out all my Moni Treats!
Get ready to dig your spoon into all the yummy goodness and surprises at the bottom.
Enjoy.
Do you love S'mores Treats? It is not Summer without them!
xx Moni