How am I going to kick off the best time of year and also my favorite time of year? Well with a recipe of course! I am bringing you a super fan-ta-bulous Holiday Treat! Who does not love a Chocolate and Peanut Butter Treat?? (and mine are minus the chemicals, preservatives, and fake taste of course).
Recently I was sent a package of butter! How awesome (and funny) is that- plus perfect for the holiday baking season too, right! ENTER SMART BALANCE. Brilliant right? This way I feel good about eating a treat that is much better for me and my family and friends.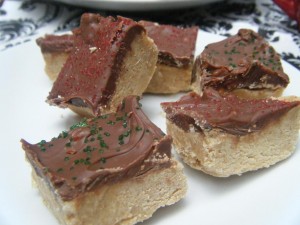 So my goal was to make a treat (as seen above) that is super decadent but that was not full of pure junk as there is so much out there this time of year. If I am going to make an amazing holiday treat like this, then I want to squeeze in a product with clean and healthier ingredients that also taste amazing.  Check it out.
As a peanut butter lover myself,  it is very important to me (and I encourage you to also read the label of your butter and nut spreads)  to use a clean brand. I mean I use peanut butter with the kids and my dogs so think about it!
So are you ready for the easiest, classic, yet super perfect, and now healthier Holiday Treat?…I thought so! Let's get on to the recipe.
Realize this. These Chocolate Peanut Butter Bars will not disappoint.  Not to mention, are so simple! I make these every Christmas and they are by far everyone's favorite. You could make these anytime of year though too.  Plus the kids love them and like I said, you can make them healthier by making a smart swap as I am about to discuss.
You can keep them just as is OR I add Holiday Sprinkles to even "jazz" them up more though for this time of year. Either way you can't go wrong.
You could also use white chocolate or semi-sweet, but I use milk chocolate.
NOTE: You do not want to cut when the chocolate shell is too hard or it will break. 🙂
If you like this, then you will LOVE my ALL my Peanut Butter and Chocolate Recipes! 
Also, try ALL my other Holiday Treat Recipes.
Enjoy!~
Disclaimer: FitFluential LLC compensated me for this campaign and my opinions are my own.