It is that time of year for Cookies, Cookies, Cookies! Who does not love shortbread? These are an amazing flavor, easy to make, and they make a lot which is great so you can give plenty away as gifts, etc. THEY ARE SO GOOD! I actually broke my hand-held mixer on this recipe because of all the butter. True Story!
I make these every single holiday season and they have NEVER failed on me. These make for one of my top favorite Holiday cookies,  Tis' the Season. You have to make these and just be on "portion-control."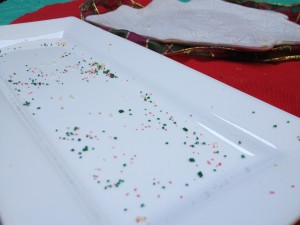 Obviously, not a "lightened-up" cookie but other than that- a perfect cookie. As I mentioned; great for gifts, parties you may be going to this time of year, easy to make and carry, but what I love the most is hands down the taste.
I think the best call I ever made when baking shortbread is-using maple syrup as well as some sugar with this recipe. It changes the entire sweetness to a more gourmet taste. Note: You do use a lot of cornstrach here to get that perfect rise, so yes I really do mean 1/2 cup.
The mini chocolate chips are key, I would really recommend "mini" over normal size. I also recommend having a huge sheet pan to bake these on too. NOTE: You need to give yourself come cooling time before you cut them up completely, I have learned the hard way, trust me…
Want to get festive? I also sprinkle red, green, snowflake sprinkles, and all-white sprinkles over the chocolate and then let them cool so it sticks to the chocolate. Hey-Just an idea for you "Martha Stewart" types! This time of year my nickname is "Moni Sewart."

Also check out all my Cookies as well as my other Christmas Cookies for more ideas. You will also love my Vanilla Bean Shortbread.
Enjoy in Moderation!~