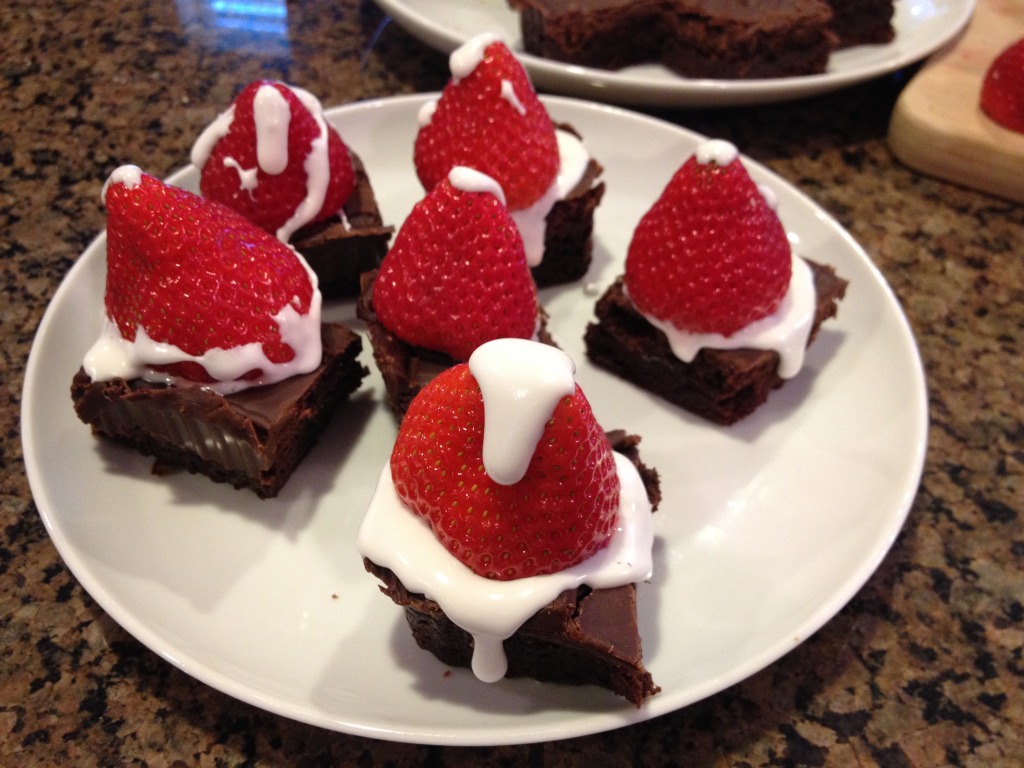 The Holidays are here. My favorite as you know. Here is a perfect recipe that is fun, festive, delicious and easy! I have proof of all of this because I just made these yummy Santa Hats with my Nephews. 🙂 We made ours more into "square" brownies rather than "circle" shape and either way – you can tell it is a cute Santa Cap. They had a blast and it was great to see them also inhaling the strawberries. Such a clever recipe to sneak in some fruit this time of year too.
You can use any brownie recipe you prefer (even store-bought). I use my Ultimate Gluten Free Brownie Recipe (seen below) or you can use my Sweet Potato Brownies (seen below) too if you are trying to make these very healthy. Otherwise use your favorite recipe and it could not get any easier from there.
Here is proof that kids love this recipe, just see below. Talk about a clever way to sneak in some fruit. My nephew Declan would not stop eating all the strawberries! They loved them just as much as the brownies. Also as you can see – ours were NOT perfect which is great if you ask me. I am a "color out side of the lines" kind of person.  All round though,  they turned out great and not bad at all for 2 boys at 3 and 5 years old, right!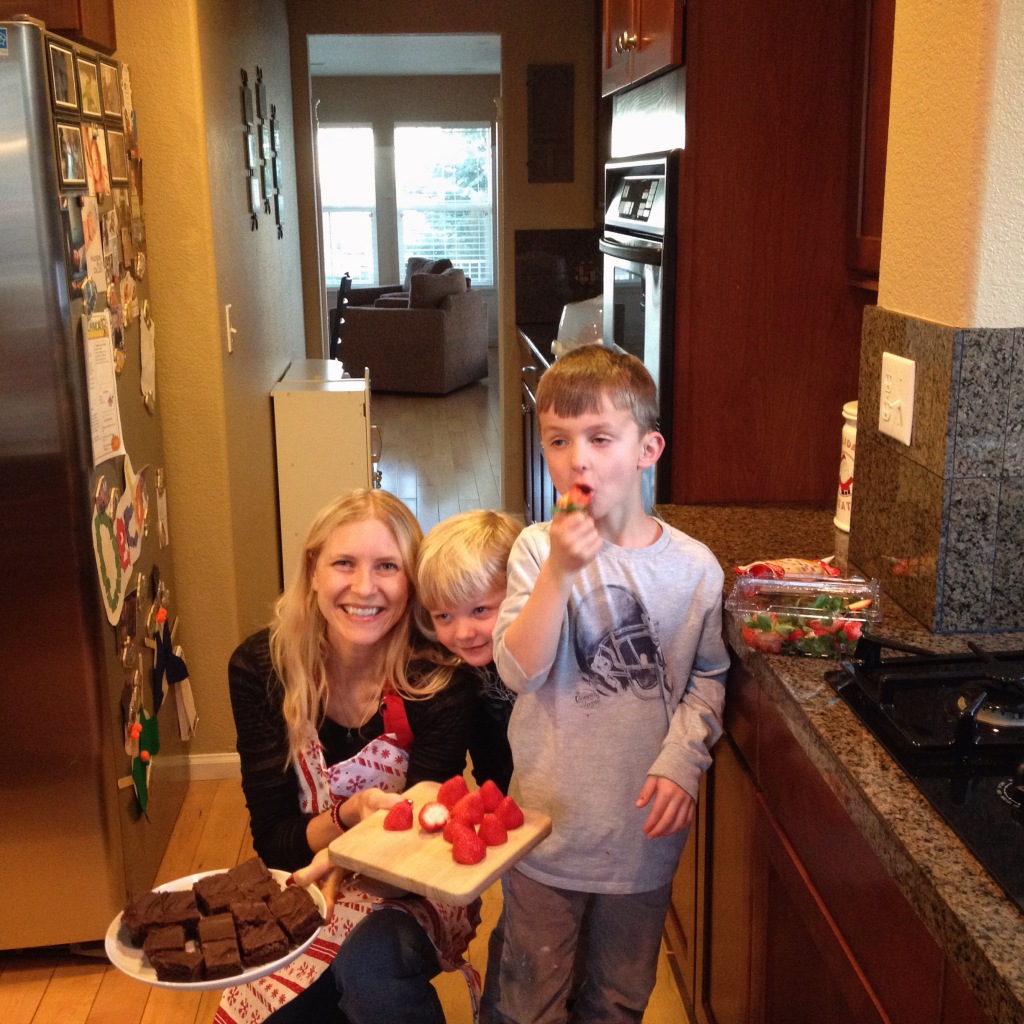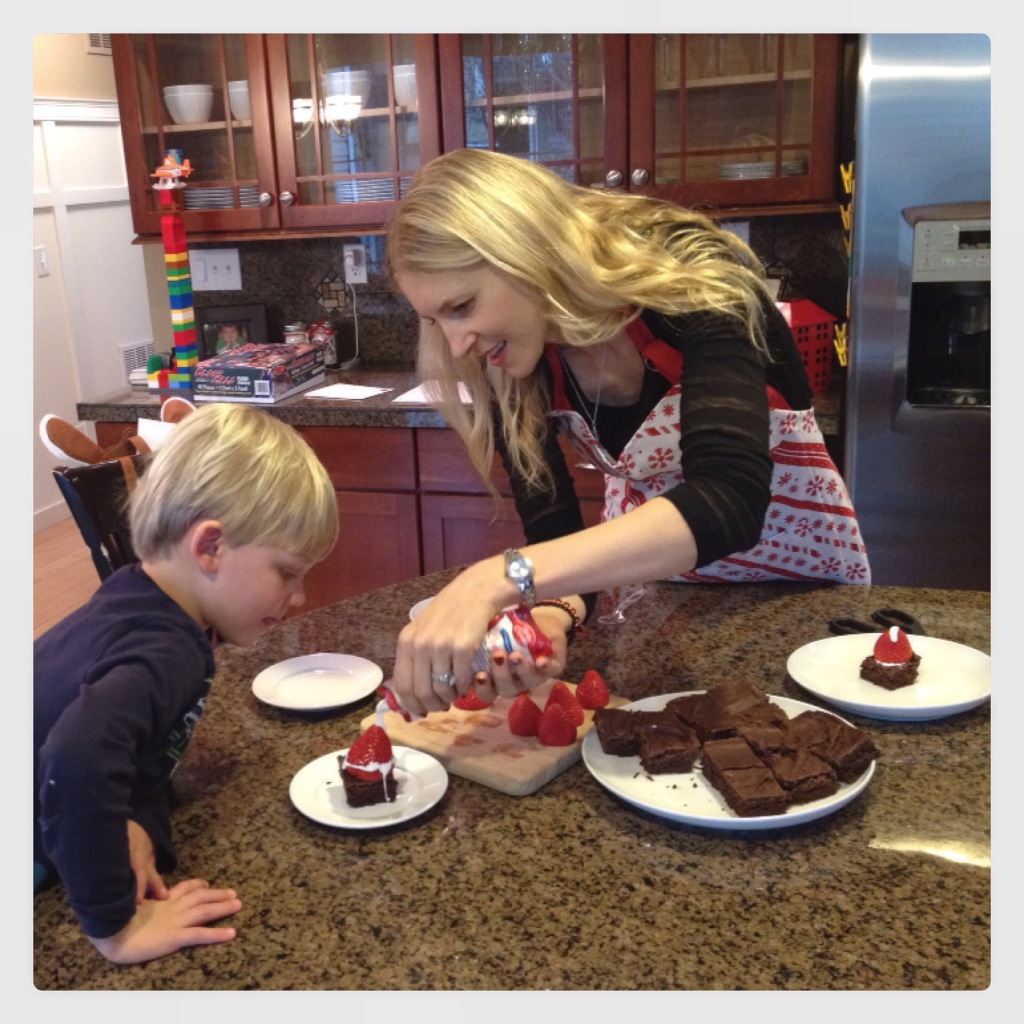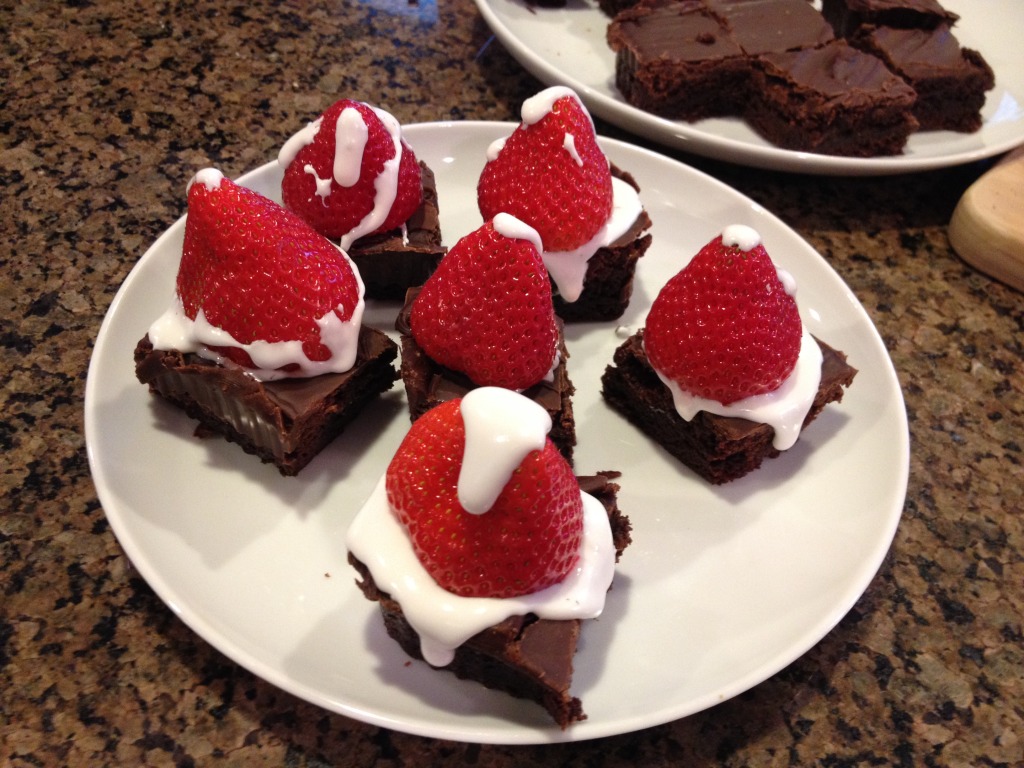 Remember, you can use any brownie recipe you want (even store-bought) or you can make my amazing Gluten-Free Brownie Recipe. I hope you enjoy and here are all my Holiday Treats to share this time of year.
Follow Moni to connect on Face Book, Twitter, Pinterest, and Instagram (-to get a look of my everyday eats!)
EAT WELL. STAY FIT. FEEL GREAT.
Happiest Holidays!
Moni xx
Santa Brownie Hats with Strawberries
Recipe Type
:
Dessert, Brownie
Author:
Prep time:
Total time:
A fun and festive brownie recipe that is much healthier thanks to some yummy strawberries that the kids love. You can use your favorite brownie recipe or even store bought. Ho Ho Ho!
Ingredients
9-12 Brownies (I use my Gluten Free Brownie Recipe) – cut into round circles or squares will work too
1 package of organic strawberries (enough for each brownie)
melted white chocolate or white frosting (about 1/2 cups worth)
festive sprinkles, optional
Instructions
Take your brownies and cut them into circles or small squares. (I prefer circles but my nephews wanted the brownies in squares!). For circles use a small circle shaped cookie cutter. Place on a plate.
Using washed and dried strawberries, cut off the stems.
If using white chocolate; melt. If using frosting have ready.
Place one brownie on a plate, add a small drop of the white chocolate or frosting and put the strawberry on top to secure. Let sit a few minutes.
Next just add the white chocolate or frosting around the bottom of the strawberry (to look like the bottom of the hat) and also add to the top of the strawberry to make a little cap.
You can also add festive sprinkles if you want now too.
So simple and the kids will gobble up the strawberries too! Enjoy.