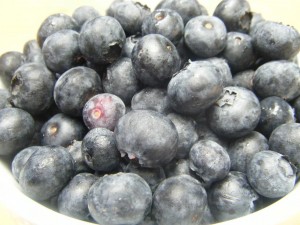 Blueberries are in their peak-season (June) and this is a great recipe for all summer. I love the ginger and blueberry combo here.  These are similar to scones and it is all about the whipped cream! Plus you can make most of this ahead. Just make the berry mixture and whipped cream earlier in the day and refrigerate and then just bring the berry mixture to room temp just before serving. You can also freeze the short cakes and defrost them when ready to use again. This is perfect for the 4th of July as well with the vibrant colors of those blueberries.  I made this for Mark and I and our friends to enjoy after our bike ride and it sure hit the spot.  🙂
You may also enjoy Oatmeal Blueberry Muffins, Blueberry Bliss, and Guilt-Free Blueberry Muffins, Enjoy!
Makes 8 servings
4 cups of blueberries
3 tbs sugar
1 tbs fresh lime juice
2 cups flour
1 tbs baking powder
1/2 tsp salt
6 tbs chilled butter, cut into small pieces
3 tbs minced crystallized ginger
3/4 cup 2% reduced-fat milk  or soy mik
1 large egg
1 tbs water
1 tbs Turbinado sugar, key for topping
2/3 cup whipping cream
4 tbs powdered sugar
1. Preheat oven to 400 F.
2. Combine first 3 ingredients in a med. sauce pan over med-low heat; cook 3 mins or until berries begin to pop. Set aside.
3. Place flour, baking powder, and salt in a food processor; pulse 3 times to combine. Add butter and ginger to processor; pulse until mixture resembles coarse meal. Place mixture in a large bowl; add milk, stirring just until moist. Turn mixture out onto a lightly floured surface. Press mixture into a 7-inch circle; cut into 8 wedges. Place wedges 1 inch apart on a baking sheet. Combine egg white and 1 tbs water in a small bowl. Lightly brush tops of wedges withegg white mixture; sprinkle evenly with turbinado sugar. Bake at 400 for 20 mins or until golden brown. Cool on a wire rack.
4. Place cream in a medium bowl; beat with a mixer at med. speed until soft peaks form. Add powdered sugar; beat until stiff peaks form. Split shortcakes in half horizontally; spoon 1/3 cup berry mixture over each bottom half. Top with whipped cream; cover with shortcake tops. You will love this! My Inspiration was from Cooking Light.