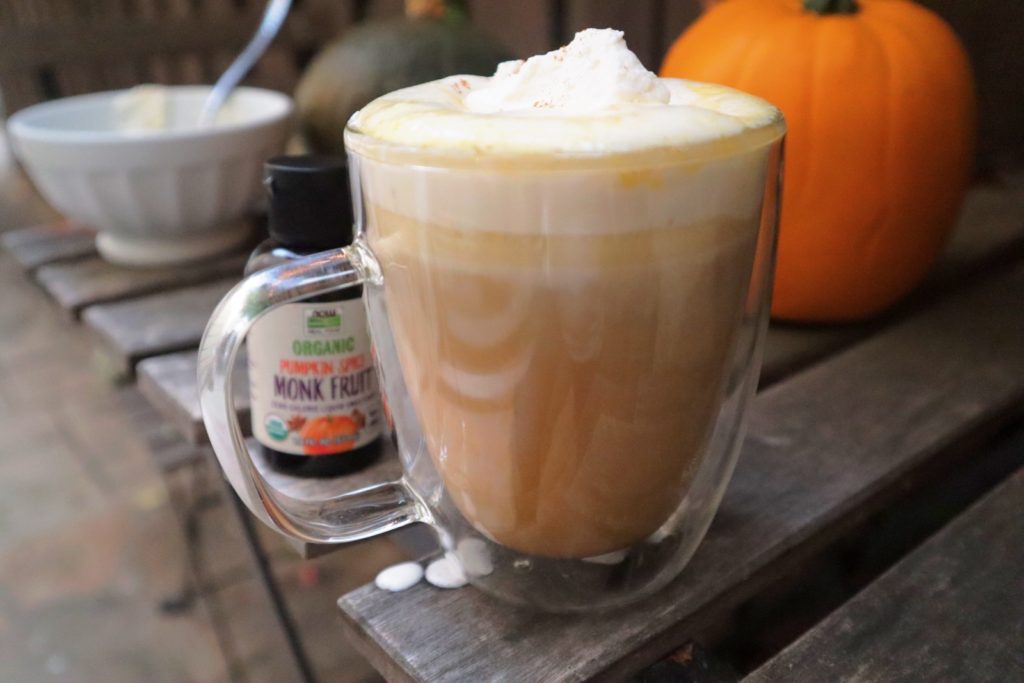 Ahhhhhh Fall is in the air my friends. Can you feel it? What is not to love! Cozy sweaters, gorgeous leaves changing colors, trendy Fall boots, warm lattes with pumpkin spice (you know… PSL's) and just about everything nice!

Even better news, is what if I told you that I have the most amazing pumpkin spice latte recipe for you today that is also is sugar free! Well, it's true. Not only is this recipe absolutely delicious and easy to make but it is one of the healthiest ones you can find.

You'd never guess this is a low carb sugar-free pumpkin spice latte. Did you know most of the fancy lattes out there don't even use real pumpkin? Since I am basically never impressed with all these mediocre lattes I knew I could make a homemade pumpkin spice latte that would taste even better than ones from the local coffee spots without all of the sugar.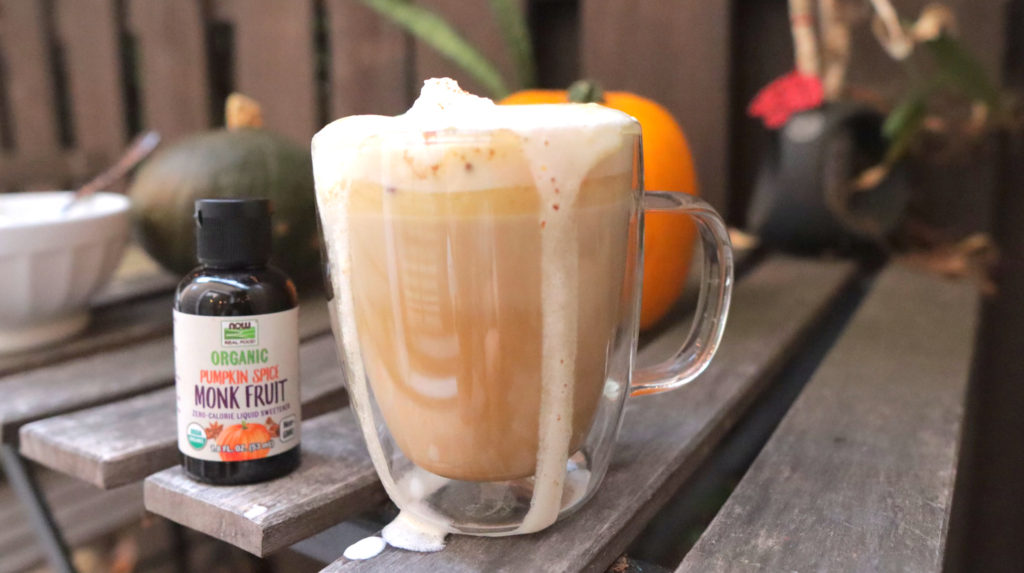 So, here we are with this low carb pumpkin spice latte that has all of the traditional flavors of a fall drink minus the sugar! The secret is using Organic Monk Fruit Pumpkin Spice Liquid Sweetener from NOW® (which is also on SALE right now!). Why I love this even more is that you don't have to buy 3-4 other spices to create that pumpkin pie spice flavor. Instead you just drop it into your favorite recipes, coffee drinks & teas, yogurt, oatmeal, etc. I love it for this recipe but also have been adding it to my weekend pancakes (check out my last recipe on Instagram to see my easy to make Pumpkin Pancakes) and my favorite afternoon tea!

NOW impresses me so much and you should make sure to check them out for a plethora of beauty & health products, natural products, supplements, sports nutrition, essential oils and even pet products!
Follow @nowfoodsoffical on Instagram and Facebook for tons of healthy ideas, recipes, products & more!
Some Tips:

Make a double or triple batch, the mixture will last for 2-3 days in the fridge. I also give the option of adding MCT oil for those who would like to sip on this all morning long and have it fill you up and help curve hunger.

VIDEO ON HOW TO MAKE THIS AWESOME PSL RECIPE!
I am so passionate about this recipe and all things Fall that we even have this fun video for you to watch so you can see just how easy it is to "whip" (see what I did there) this Fall treat up.
Now to this AWESOME Healthy, Low Carb, Low Sugar Pumpkin Spice Latte!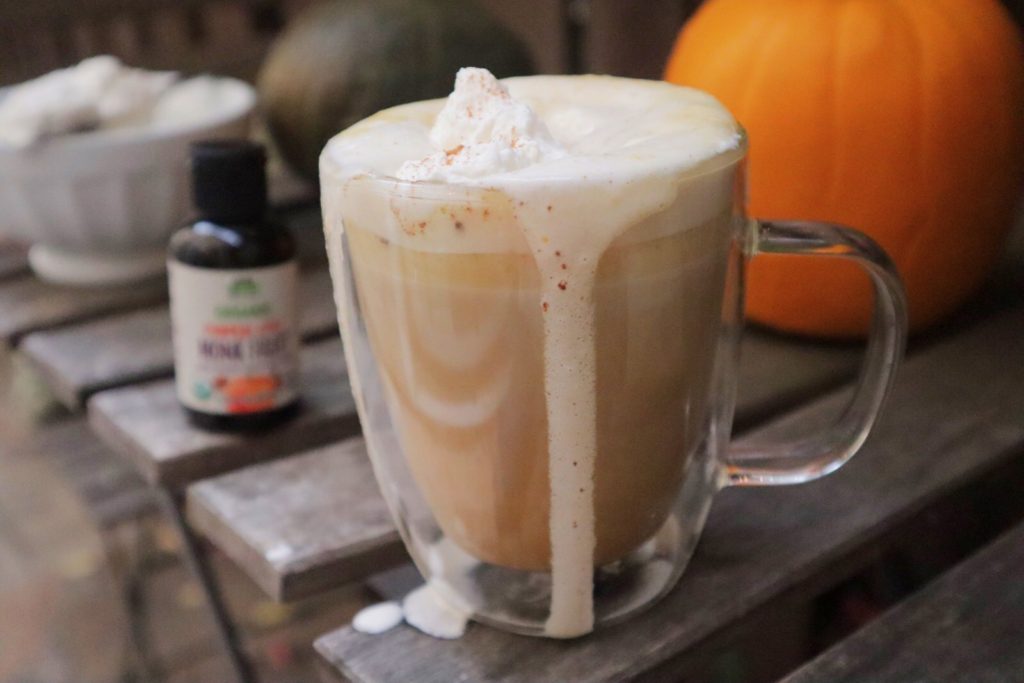 SUGAR FREE PSL RECIPE:

INGREDIENTS
3/4 cup unsweetened almond milk (or coconut milk for nut-free)
2 tbsp heavy cream, organic
2 tbsp organic pumpkin puree, BPA free can
5-10 drops of NOW Real Food® Organic Monk Fruit Pumpkin Spice Sweetener, depends on your level of sweetness
1/4 tsp pure vanilla extract 
1/2 cup brewed strong coffee (or 1/4 cup espresso), organic
1 tbsp of NOW® Sports MCT oil, optional – great option for those who are sipping on this all a.m.
Topping:
For Whipped Topping: 1 cup whipping cream with 1 tsp pure vanilla extract to make real whipped cream or use a sugar-free whipped cream brand (for serving), optional
Dash of cinnamon for topping, optional


INSTRUCTIONS
Microwave method: Stir together the almond milk, heavy cream, pumpkin puree, and pumpkin spice sweetener in a 12-ounce mug. Microwave for 45 to 60 seconds, until hot.
Stove-top method: Stir together the almond milk, heavy cream, pumpkin puree, and pumpkin spice sweetener in a small saucepan, until hot. Pour into a 12-ounce mug.
Add next the pure vanilla extract and MCT oil (if using). Use a milk frother to blend until the mixture is smooth and frothy, and everything is well blended.
Stir in the brewed coffee or espresso. 
Top with a dollop of sugar free whipped cream and just a sprinkle of cinnamon (both optional).
ENJOY!!
THIS IS A SPONSORED POST BY NOW. ALL MY OPINIONS ARE MY OWN.
What about you…are you a huge lover of all things Fall and do you enjoy those PSL's too?

Follow Moni to connect on Face Book, Twitter, Pinterest, and Instagram (-to get a look of my everyday eats!)
EAT WELL. STAY FIT. FEEL GREAT.
xx