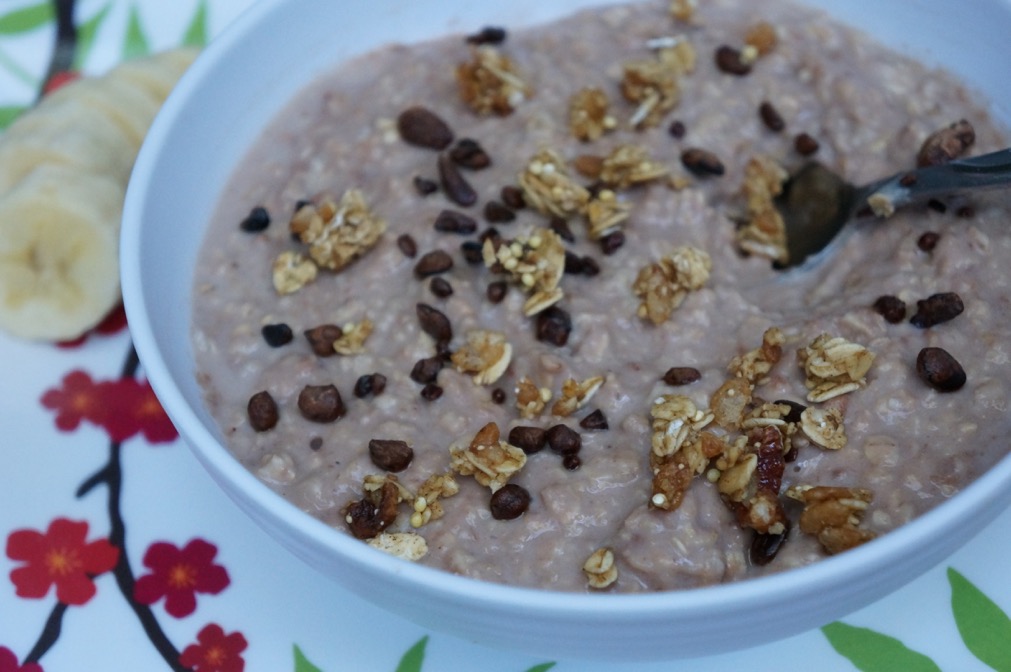 Double Chocolate Oats! I love this breakfast anytime and anywhere. It is packed with super foods and is also very delicious at the same time. That is called a win-win situation!
Packed with gluten free oats, almond milk, cacao nibs and granola for a "crunch-crunch"…
Use your favorite protein powder, I am loving SFH Chocolate Protein. I love how they pack in the cleanest whey plus there is no junk. Great flavors too!
This recipe is packed with nutrition and actually quite tasty all at the same time. Hits the spot every time and will keep you full all morning long. I eat this meal when I really am craving my chocolate! I like Purely Elizabeth Granola and Sunfood Cacao Nibs. 
PS- cacao nibs are incredibly good for you and did I mention…so darn tasty?
You can add in anything else you like. Example: nut butter, coconut flakes, chia seeds, etc.
You can use any protein powder you like. I like SFH.
Great fuel for those hard workouts or when you need a breakfast to keep you full.
Try all my Breakfast recipes, oatmeal and granola treats.
Enjoy!
Follow Moni to connect on Face Book, Twitter, Pinterest, and Instagram (-to get a look of my everyday eats!)
EAT WELL. STAY FIT. FEEL GREAT.