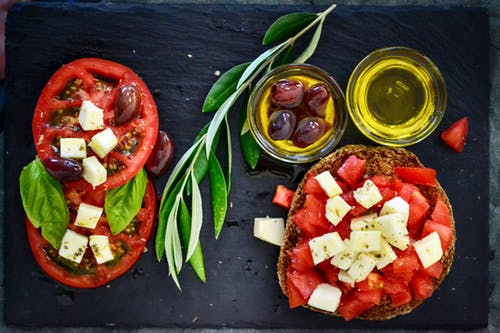 The love for Italian food isn't uncommon these days. Be it a date night, or a casual brunch, the savory Italian cuisines like meatballs, pizza and pasta never fail to impress. However, many people aren't aware of the healthier varieties of Italian 'deliziose cucine' (delicious cuisines) that don't add flaps to your waistline. Mouth-watering Italian salads that comprise of natural ingredients and other healthy meals can appease your palate without compromising on your dietary habits.

There's a reason why Italians are so cheerful always, besides being healthy. Most of their preparations are based on olive oil, as you're going to find out soon. They also have this amazing way of serving people, as a part of their age-old tradition. No wonder whenever the word 'Italian' pops up in your head, you automatically think of food.

So if you're on a diet, you can try out some of the classic Italian delicacies mentioned below.

Burrata Caprese Salad
The ones who have had it once never stopped from ordering again. This classic salad recipe uses ingredients like ripe heirloom tomatoes or regular ones, Burrata cheese, Basil leaves, black pepper and a lot of virgin olive oil and last, but not the least, balsamic vinegar.

Burrata cheese is preferred over mozzarella in the preparation of this salad to add that characteristic creamy flavor it's so well-known for. It's interesting to note here that Burrata is basically Mozzarella filled with cheese curds that are dipped in a delicious cream. Further, heirloom tomatoes are the more expensive varieties, as their seeds are handed down by many generations (hence the name).

Grilled Caesar Salad
This preparation has immense health benefits because of the ingredients used like Romaine lettuce, black pepper, croutons, raw eggs, and of course, olive oil. The nutrient value of this 'Insalata' mainly generates from the veggies used, which you can alter, depending on your needs.

Tomatoes, spinach, lemon and bell peppers can be added to increase the health value of this preparation, while the chicken in the Caesar salad will ensure a sufficient amount of protein. You can ask the Italian restaurant you're visiting to customize the preparation according to your preferences. If you aren't lactose intolerant, parmesan will surely give a tweak to the flavor.

Spaghetti and Meatballs
Every Italian food enthusiast will be aware of this delicious cuisine, but do you know about its health benefits? The meatballs are rich sources of protein, while the spaghetti is made from flour, which replenishes your body's need for healthy carbs. Spaghetti is also rich in minerals, vitamins, and fiber, the essential nutrients your body craves for. What more? The spaghetti sauce used in the preparation is said to add cancer-preventing nutrients to your diet.

Cauliflower Arancini
One of the most favorite Italian snacks, the cauliflower Arancini is crunchy, savory and when served with rocket salad and almonds, they take the crunch to another level. If you seek a healthy mid-week brunch, these tasty cauliflower balls are the right choice for you.

Wrapping it up
If you're health-conscious, there's no reason to believe that Italian food isn't for you. On the contrary, the Italians proudly flaunt some of the healthiest recipes that satisfy your taste buds without compromising your health. Visit a reliable Italian food joint and let them serve you in their characteristic joyful manner, and you'll leave the place without an ounce of guilt for cheating on your diet.

Buon Appetito!
This is a collaborative post.